Rolling Plains Art Gallery www.holmescenter.org/theater/wtrseason/plainsart.htm
"The Rolling Plains Art Gallery (RPAG) is an educational outreach program of the Plains Art Museum located in Fargo, North Dakota. An exhibition space on wheels, the RPAG is an 8-foot by 48-foot semi-trailer that has been converted into a mobile art gallery. The Gallery is a fully accessible, climate controlled facility that exhibits artwork from the Permanent Collection of the Museum. An art educator accompanies the Gallery, conducting interpretive tours and art activities."
.
.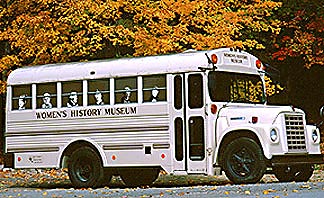 Women's History Museum www.geocities.com/womenshist/womenshist.html
"The Women's History Museum is a mobile museum containing artifacts, documents and genuine memorabilia from more than 20 historic women."
.
.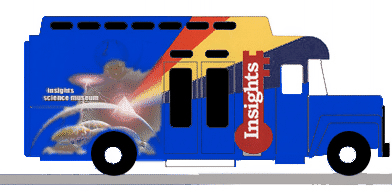 Insights El Paso Science Museum: Museum on Wheels www.insightsmuseum.org/van.html
"We have a mobile museum available for school groups and special events. This miniature version of our museum contains 20 hands-on exhibits that demonstrate such things as energy, optics, health, and more."
.
.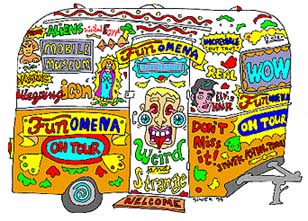 Funomena www3.sk.sympatico.ca/funomena/what.htm
"Funomena (sounds like phenomena), is the world's smallest museum, yet it has the largest collection of the weird and strange. This unusual mobile museum is a traveling sideshow that includes 13 mind boggling exhibits, a captivating soundtrack and sensational souvenir shop. All of the exhibits are authentic and endorsed. You have to see it to believe it! You can take a self-directed tour through the museum. Just enter Funomena and then read the program describing Funomena Exhibits."
Indian Museum, Calcutta, India - Mobile Exhibition Van www.indianmuseum-calcutta.org/mobilevan.html
"The museum on wheels commissioned on May 16, 1987, is designed to carry the message of museum to the doorsteps of rural India under the extra rural mass education programme of the Museum. The mobile exhibition on the theme of man'' creation and nature's manifestation provides a glimpse of the rich and varied collections of the Indian Museum, the oldest institution of it's kind in Asia. The exhibition presented through twenty diorama arranged in two tiers of the Museo Bus reflects some artistic marvels created by our ancient forefather as well as a few wonderful manifestations of Nature in terms of flora, fauna and fossils.
The Great Bath at Mohenjodaro, Kalibangan, --- an ancient Harappan city, edict of the Emperor Ashoka at Dhauli that bespeaks of transplantation, carved medallions from Bharut in Madhya Pradesh, unfolding of ancient trade centre through archaeological excavation at Arikamedu in Tamilnadu, the central pillar of Diwani Khas at Fatehpur Sikri, the Mughal court paintings, a series of Indian gold coins, inscribed records of socio-economic importance and sculpture from various ages of our history representing the life scenes of Lord Buddha, women in Indian art, the bronze images of Gods and animals include the objects on show. The fabric art of Indian female folk, the colourful masks of Bengal, the simple naïve wood carvings of of the Naga communities are also displayed here. A panoramic view of high altitude birds; fossilised remains of plants, flower and animals as well as specimens of medicinal herbs and Nature's freaks presented in the diarama offer a feast to the eyes and thought for the enquiring mind. The exhibits displayed are fabricated in fibre glass and plaster cast models with the exception of a few museum objects in original. The presentation aims at creating awareness amongst masses about the rich cultural heritage spanning over five thousand years and the natural traditions of our hoary past."
Mobile Science Museum www.cnsm.csulb.edu/programs/msm/index.htm
"The Mobile Science Museum (M.S.M.), a project funded by California State University, Long Beach, is one of the more successful community outreach program of the university. The M.S.M. is simply a science museum on wheels, and because of this, the museum is able to bring science to the students of schools that would otherwise not have the opportunity to visit a science museum as unique as this.
The M.S.M. carries inside of it over forty individual exhibits, including the ever popular marine touch tank and the motion chair. The exhibits of the Mobile Science Museum covers everything from Astronomy to Zoology."
Mobile Museum for Vietnam Veterans of Australia (link no longer active)
Art Train USA www.artrainusa.org/

---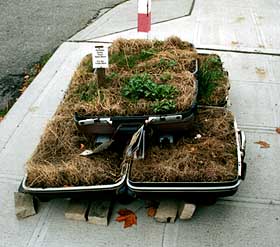 Buster Simpson - Suitcase Landscape www.bustersimpson.net
Text on the sign: "Portable Green Roof Seed Bank: For the Urban Roof"
.
.
.
.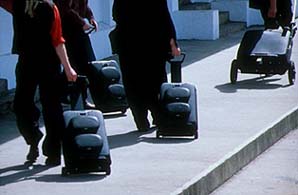 Sound Mapping www.reverberant.com/SM
"Sound Mapping is a participatory work of sound art made for outdoor environments. The work is installed in the environment by means of a Global Positioning System (GPS), which tracks movement of individuals through the space. Participants wheel four movement-sensitive, sound producing suitcases to realise a composition which spans space as well as time. The suitcases play music in response to nearby architectural features and the movements of individuals. Sound Mapping aims to assert a sense of place, physicality and engagement to reaffirm the relationship between art and the everyday.
Sound Mapping is a collaborative project by Iain Mott, Marc Raszewski and Jim Sosnin. The premier exhibition was staged in Sullivan's Cove, Hobart by the Tasmanian Museum and Art Gallery (TMAG) on 29 January - 15 February, 1998.
Sound Mapping was awarded an Honorary Mention in the Interactive Art category of Prix Ars Electronica. The project was exhibited as part of the Ars Electronica festival in Linz, Austria in September 1998."
.
.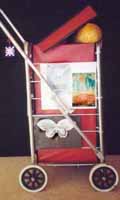 Shopping Trolley Gallery (link no longer active)
"The STG is a mobile art show on a dear old lady's own shopping trolley. She pushes it on her trips to the supermarket, to carry her shopping home. It is part performance and part installation."
.
.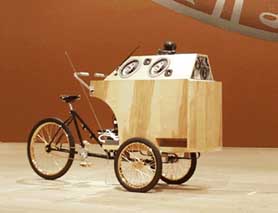 Soundlab (link no longer active)
.
..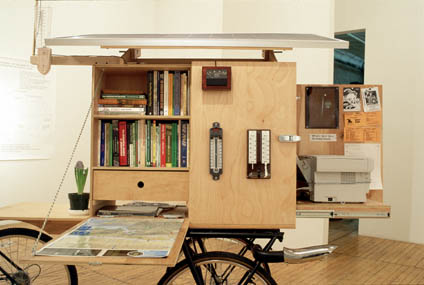 Nils Norman, 1999. "The Gerard Winstanley Radical Gardening Space Reclamation Mobile Field Center and Weather Station Prototype (NYC Chapter)" (link no longer active)
.
.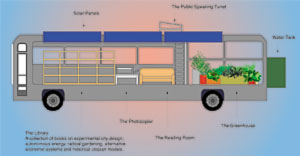 Nils Norman's Geocruiser - The Mother Coach
www.instituteofvisualculture.org/2001_geocruiser_01.php
"In 'Phase1', Norman will present the production plans and models of 'Geocruiser. The Mother Coach. Zone: Earth'. A redesigned, fully functional coach, it will contain a library, reading area; offering free access to books on radical gardening, eco-activism, self-sustainability and collectivism and use of a photocopy machine and Internet facilities; both powered by solar energy provided by the coach's solar roof. The rear of the coach will host a in-built greenhouse growing a variety of indigenous vegetables, fruits and flowers all watered by a 'rainwater filtration unit' located on the back of the bus."
.
.
.
.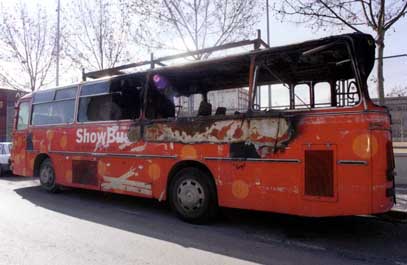 Las Agencias - Show Bus www.sindominio.net/fiambrera/web-agencias/paginas/index/indexshow-bus.htm
.
..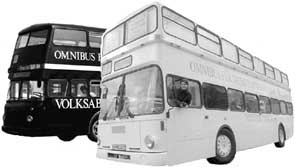 Omnibus fuer Direkte Demokratie in Deutschland www.omnibus.org
Omni bus is based on Joseph Beuys' theory of social sculpture. The original bus toured Germany instigating political actions before it was retired to a
museum courtyard. It is now the home of a bee colony. This beehive has become an analogy for the political program of direct democracy. The new Omni bus is currently touring Germany spreading the political message of direct democracy.
.
.


Sprite Musketeer (link no longer active)
"The SPRITE MUSKETEER is a 1970's caravan that has been converted in to a contemporary art space.
This touring gallery was originally created to avoid the politics and funding pitfalls that face many art institutions. The project also explores ways of decentralising the art experience and relocating it within more unfamiliar territories. Its aim is to attract a diverse and unsuspecting audience.
With its bright orange exterior and pristine white interior, the SPRITE MUSKETEER both provides a new space for considering visual art in the 21st century, and raises questions of its role in contemporary society."
.
.


Sandbox and SIMPARCH - Object d'Art
"The Object d'Art project encompasses the spirit of collaboration as well as the empowerment of the individual artist. A 7' x 9' x 11' miniature art gallery complete with hardwood floors, tracklighting and white walls has been constructed within a large shipping crate built upon a utility trailer. This one of a kind concept car was designed by our top designers to travel across the United States of America in four far reaching regional swipes. Manned by the Sandbox/SIMPARCH traveling auto mechanics/museum docents, the DART and the ART glide from city to city, stopping for public display much like a bookmobile of contemporary art."
.
.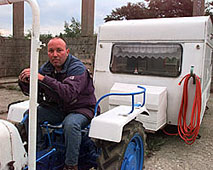 The Washing Mobile www.f8.com/FP/PHOTOKINA/INT2d.htm
Dieter Breuer, 38, stands in the middle of a graffitti-covered courtyard before his newest artwork - an old trailer reconfigured as a "washing mobile." He offers a bandaged, grimy hand.
"I studied art, but my work at the moment is a social project - a washing mobile for the homeless. Do you have this word in English also? I call it art, because in the middle of art there is standing the human being."
Breuer happily points out the washing mobile's main features, including a 120-liter hot water tank and a pressure tank. The bathrub, ringed by small orange curtains, can be filled three times. There's a hose to tap into underground water pipes, and a full-length mirror.
"This washing machine project will start in four to six weeks, but we're having organizing delays - how to get towels, how to get drivers. I'm using a tractor, because in Germany anyone over 18 can drive a tractor without a driving license. A lot of people living outside have lost their licenses.
"I also have an exhibition in the center of Cologne - photographs from Liepzig. It's in a special kind of room, with metal on the inside and organic material on the outside. It makes you feel like a battery."
.
.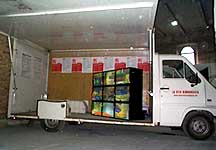 Matthieu Laurette www.laurette.net/
Kent Mobile Arts Unit (link no longer active, but they do have bookmobiles: www.kent.gov.uk/home.html)
"The eye-catching and innovative Mobile Arts Unit tours Kent throughout the year, bringing the arts to events and festival across the county. The reasoning behind the project is simple - it brings art and artistic entertainment to wider audiences than it might be possible to reach in a fixed gallery. it is largely a free service available to organisers of events of all natures throughout Kent, and has already attracted crowds at gala concerts, summer fayres, fun runs, flower shows, arts festivals, rallies etc.
Inside the van air-conditioning keeps visitors cool and work hung along the 11.6m of exhibition space keeps them interested. The height of the white board for hanging is 1.75m, and it is lit by variable-position spotlights, skylights and fluorescent strips. Mirror plating is the recommended method of hanging works. Much more than simply a travelling exhibition, the Arts Unit is in itself a full-scale arts event - with a generator, music system, video and TV, projection screens and often a juggler or street entertainer! It is suitable for providing a base for musicians and actors during its appearance at any event, and, of course, provides an ideal opportunity for an artist to exhibit work across the county. Although busiest during the summer, it is active throughout the rest of the year as well. The vechicle is not wheelchair accessible."
.
.
MS Stubnitz www.stubnitz.com
.
.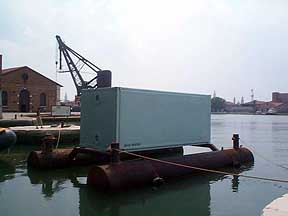 Atelier Van Lieshout - shipping container that doubles as a portable abortion clinic.
The clinic was made for Women on Waves >>>
.
.


Atelier Van Lieshout - Walker on Wheels www.walkerart.org/pew/wow/
.
.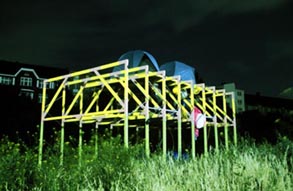 Voyage Platform by Ward Shelley www.voyage.cultd.net/index.htm
.
.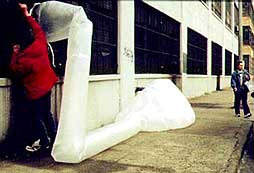 Michael Rakowitz www.possibleutopia.com/mike/parasite.html
.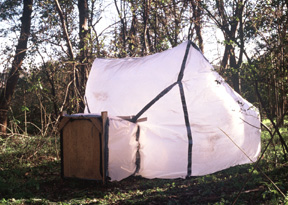 Portable Living Structure-a complete living space designed to inflate using a small fan that continuously pumps clean air through the structure. A portable electric system, utilizing both solar and hand crank generation provides all the electricity needed to power the fan as well as other small electrical appliances. To maintain inflation during entry and exit an airlock is employed from the door into the interior of the space. For ease of portability, the complete structure can be deflated and stowed away into its door assembly.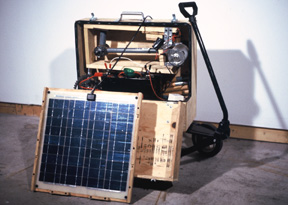 Portable Electric System- utilizes both solar panel and hand crank power to charge a deep cycle battery. The hand crank power is generated using a modified bicycle and a DC electric motor. An onboard sine wave inverter converts the batteries DC to AC power. All necessary components are stored onboard for safe and efficient movement.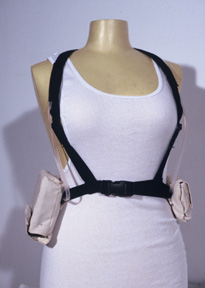 FM Radio Transmitter Belt-allows a wearer to broadcast an FM signal in a 200-yard radius of their location. It is set up to accommodate a variety of consumer playback devices. The belt and shoulder straps adjust to enable the wearer to conceal the system under clothing, while also doubling as mounting points for the antenna system.
.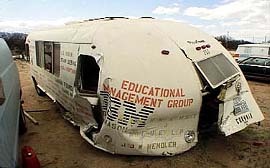 Rirkrit Tiravanija - Untitled 1998 (On the Road with Jiew, Jeaw, Jieb, Sri and Moo) www.philamuseum.org/exhibitions/...
"In a joint effort, the Philadelphia Museum of Art and Educational Management Group (EMG) bring you the month-long journey across the US by motorhome of Rirkrit Tiravanija and five art students from Thailand."
Overcoat - A mobile exhibition of art in a coat www.overcoat.org
.
.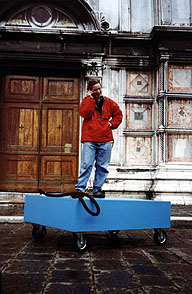 Carolina Caycedo y Raimond Chaves - O Carrinho Brica O Carrinho Braque (an open platform or scenario in the street, where people can do anything they want)
.
.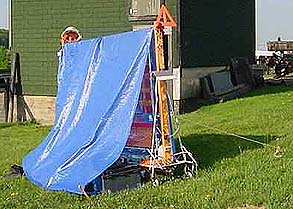 Bert Esenherz's Coast to Coast Mobile Art Show
.
.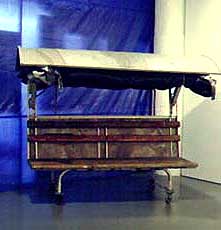 Bradley McCallum, Mobile Park Bench with Awning
"This photographic sequence documents the final stage of a public intervention that was designed with, and used by Jackie, a homeless woman who had been living in a small abandoned city park on the edge of Yale University. This collaboration began on September 10th when Jackie expressed the unrealistic yet genuine wish that the city build awnings over the park benches. After several stages in the collaborative design process the Park Bench Shelter was completed on September 30th. On November 7th the New Haven Parks and Recreation Department removed the sculpture. The following day they moved her belongings (several grocery carts full of clothes) to a parking lot across the street."
.
.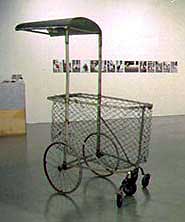 Bradley McCallum, Urban Vehicle

"This cart and video document a series of 11 collaboratively-designed vehicles given to and used by individuals who collected aluminum cans and other material for recycling. John Henderson returned his cart on June 5, 1989 after he was diagnosed with cancer and no longer had the physical strength to continue collecting cans. The other carts remained the property of the individuals who used them resulting in an ongoing public installation that sustained a visible presence in Richmond for several years."
.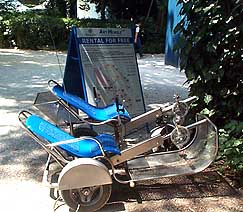 Antal Lakner
.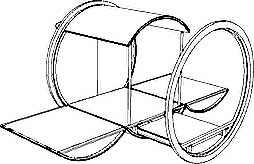 Mobile Porch www.mobileporch.net
Cab Gallery www.cabgallery.com/0_menu/cabg_frameset.html
TRUNK© www.umoncton.ca/gaum/tramptrail/needle/trunk_home.htm
Spontanblatten's Mobile Gallery (Norway) www.spontan.net/mobile/index.htm
.
.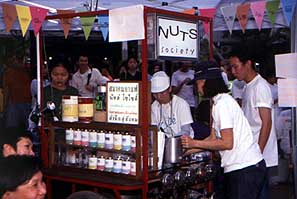 Nuts Society Cafe (art group in Bangkok) www.nuts-society.org/detail_eng_102000.htm
"Nuts Society recreated a saleng (tricycle) to distribute old-styled coffee and tea serving in Nuts Society's own products at Siam Square, Bangkok's trend center. The purpose was to be a nitch for discussing about various social concerns and also create a role model for responsible small or medium enterprises whom want to insert social responsibilities with their own businesses."
.
.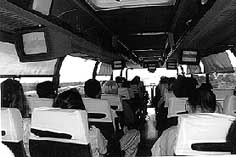 The Center for Land Use Interpretation - Guided Tours
A description of one of their tours:
"The Nellis Range Perimeter: A Tour of the Void
Nevada has the most publically accessible land in this country, as over 80% of it is managed by the Bureau of Land Management. Travellers can go just about anywhere in Nevada, just close the cattlegate behind you. The big exception is the Nellis Range, the inaccessible void. The perimeter region, where the open landscape meets this landlocked island of the unknown, is an interesting, liminal space, where these opposite worlds are juxtaposed, creating an Eisensteinian "collision" dialectic, manifested physically on the landscape.
The Center for Land Use Interpretation exhibit The Nellis Range Complex: Landscape of Conjecture included a bus tour of the Nellis Range area as part of the exhibit. The sold-out tour brought over 50 people out to southern Nevada, for a two day loop around the Range. As expected, permission was not received to enter into the Range at any point, making this a sort of virtual tour - a tour of an unvisitable place. The bus was met by local briefers at various points, visited the range perimeter areas wherever possible, and stopped at many unusual sites along the way, setting the context for the Range, and describing it from without."
Navin Rawanchaikul www.airdeparis.com/taxi.htm
.
.
.
.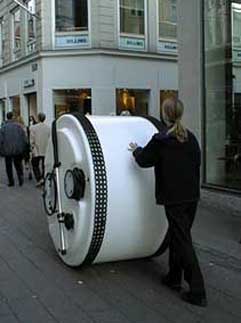 N55 - Snail Shell System www.n55.dk/sss.html
"Snail Shell System is a low cost system that enables persons to move around, change their whereabouts and live in various environments. One unit supplies space for one person. It is mobile both on land and water. It can be moved slowly by one person, either by pushing it like a wheel, walking inside it or on top of it. On water it can be rowed, moved by a kite or hooked up to a vessel, for example a ferry. The unit rests on one flat side and can be anchored in lakes, rivers, harbours or at sea. On land it can be placed in city spaces, fields, forests etc. The Snail Shell System takes up very little space and can easily be placed in a discreet way. It can be buried in the ground, exposing only the entrance. It can also function as a comfortable space inside existing buildings. Several units can meet up and form temporary communities. The unit can be hooked up onto existing infrastructure like telecommunication lines and electricity cables (for example by connecting it to street lamps). If special devices are added, the unit can supply its own energy. The Snail Shell System can also be used for transporting different items and it can provide protection for persons when they participate in situations like demonstrations."
KOM - en mobil udstilling i Sydhavnen web.archive.org/web/20050220153032/http://kopenhagen.dk/indeximage/kom.htm
Marksearch - Various projects: Temescal Seed Swap, We Riders, CAlabama Peddlers
Marksearch is an independent artistic cultural research team formed in 1995 by Sue Mark. Sue Mark and Bruce Douglas, a wife and husband team and long-time Oakland residents, have collaborated on community-based art projects since 2000. Our mission is to create interactive projects that invite people to reflect upon their local communities, consider healthy alternatives to driving, and increase awareness of the natural environment within the urban fabric. marksearch designs national and international research projects that address the definitions of city centers and landmarks, post-communist urban transformation and local community history. Exploring the complexity of implicit power and social relationships is embedded within our research: Who controls public space and what sense of responsibility do community members feel toward one another?
Our work emerges from a performance history emphasizing daily life as the basis for art-making. This process, according to Bay Area performance art pioneer Alan Kaprow, is more life-like than art-like: its importance depends on and refers to a real-life context. Our work also follows German performance artist Joseph Beuys' goals, maintaining that socially and ecologically engaged work can create meaningful art. According to Beuys, participatory experience forms an ephemeral "social sculpture": no expertise is required. Conversation is our primary research and creative tool. Our participant-driven projects promote independent thinking and create a platform from which any individual can offer an opinion, by which each individual is an expert of her experience. By highlighting the everyday, such as walking or storytelling, activities become performances.
We work with municipal organizations, local businesses, and community members to conduct site-specific research. Our urban explorations examine themes such as: Where is the center of the city?; What and where are the boundaries of a neighborhood?; How can a vacant lot become a landmark?; and How can a community commemorate aspects of local history?. These conversations invite people to reflect on their own experience and express thoughts regarding larger social issues that impact their daily lives.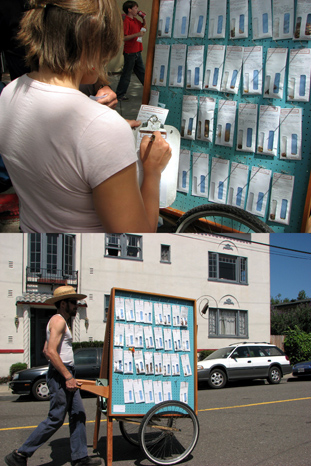 Temescal Seed Swap is an interactive community installation to encourage the sharing of local neighborhood flower, vegetable and plant seeds and conversation about neighborhood gardens. With this seed-cart made from reused materials, we travel to local community events and sites such as the Sunday farmers' market, churches, street fairs, and block parties.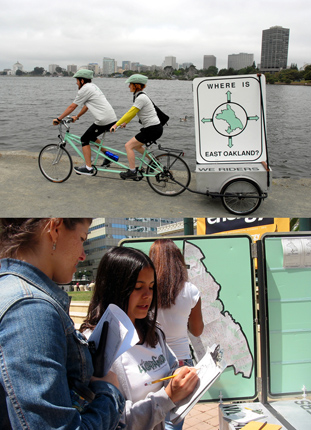 We Riders - www.weridersoakland.blogspot.com
A creative research project to help West and East Oaklanders physically locate, culturally define and celebrate their neighborhoods. We traveled by tandem bike around the city collecting and displaying stories and images on a traveling kiosk. The kiosk is made from re-used materials (old street signs).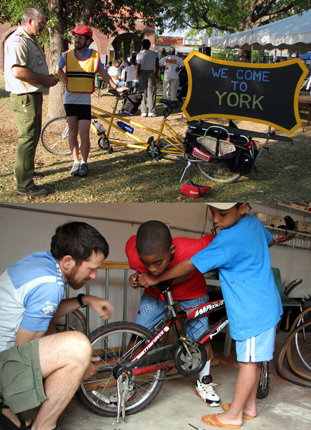 CAlabama Peddlers - www.calabamapeddlers.org
A month-long interdisciplinary residency in York, AL to investigate local history, current concerns and sense of community in this depressed rural town. We traveled by tandem bike around the region collaboratively creating and displaying inviting town slogans. Our billboard is made from re-used materials.
---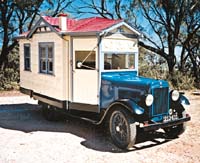 Home away from home
"One of our earliest caravans was basically a Federation doll's house on wheels. James Cockington investigates.
A unique piece of Australian travel history is on display in a glass-walled garage at the entrance to the Barossa Valley Tourist Park in Nuriootpa.
On August 31, 1931, "Pop" Kaesler, his wife and three of his four kids set out from Nuriootpa on a round-Australia journey in this
extraordinary vehicle, thought to be one of Australia's first mobile homes. But not the first. Kaesler had built a less elaborate prototype in 1929 but only got as far as Goolwa, where the local mayor snapped it up. [...]"

.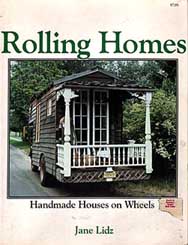 Rolling Homes,Jane Lidz, A & W Publishers, New York, 1979 (out of print)
"With the spirit of yesterday's covered wagon and the mobility of today's recreational vehicle, these individually crafted houses on wheels form an original artistic and cultural movement. They combine the do-it-yourself tradition with the American faith that 'you can take it with you.' Blending art with technology and economy of style, they satisfy the desire for freedom, simplicity and self-expression."