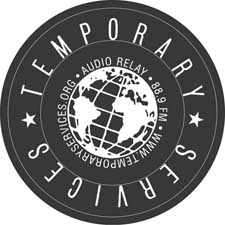 CONTRIBUTORS:
---
CHICAGO
SAN FRANSCISCO
PORTLAND

WEIMAR
LEIPZIG
---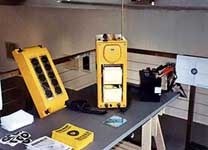 SAN FRANCISCO
*IT CAN CHANGE and friends helped out in a big way in compiling material for Audio Relay's visit to San Francisco.
Tommy Becker | And down came the mighty sword
This compilation cd was produced in a large walk-in closet over the period of two years. It includes short disappearing narratives, heartfelt scores of power and bits and pieces of blubbering. As the green turned, turned to green-yellow, beneath the war torn bodies that crows now hopped across, a space opened for the soil to rise and show it's ugly underpinnings. The warrior, faced with an axe to the brow, cared little, but the ripe bacteria that had accumulated from the dead slowly slipped their way into his battered toe nail. In a matter of a month he, the most valiant, would be placing his foot on the block and down, down would come the mighty sword.
..
..
Flamethrower | 2003
Swansong of a drowning machine: manic rhythms, elegiac melodies, monolithic bass welling up atomized, overdriven, a temperamental eddy of attenuated beats combed in waves of static, echolocation of recondite memories submerged 'neath shipwrecked hulk of halcyon days, salvaged in gurgling synthesis of halting syncopation and interjections ruptured as if with the bends.
..
..
Hammer and Throck | Hammer and Throck, 2003
The earthquake at the house taken apart by Oakland's Hammer and the basic rule of Throck is the therapy of atonal impact, of the one. Theatre of cruelty, Ferocity, Virtuous.
www.itcanchange.com/HT/hammerandthrock.html
..
..
Trevor Paglen | Security Housing Unit, 2002
The recordings on this CD were made in the Security Housing Unit (SHU) at Pelican Bay State Prison, one of the nation's premiere "supermax" prisons. Built in 1989 at a cost of $277.5 million, Pelican Bay represents the apex of California incarceration. The SHU units at Pelican Bay are designed for maximum isolation: prisoners are kept in small cells 23 hours a day and automated doors ensure an absolute minimum of interaction with other human beings.

Animated by Quaker notions of the rehabilitative power of reflection and introspection, solitary confinement began in American prisons in 1829. The practice was largely discontinued when it became evident that extended periods of solitary confinement often led to mental breakdown. Despite repeated court rulings of Eighth-Amendment violations at Pelican Bay, the supermax model of incarceration has grown dramatically over the last ten years as American prison policy has shifted from a philosophy of rehabilitation to one of punishment and retribution. When it was built, Pelican Bay was one of the first prisons toregularly keep inmates in isolation for more than 30 days at a time. There are now an estimated 20,000 people living in 57 supermax units across 42 states.*

These recordings are part of a large project undertaken by Trevor Paglen with various prison-activist groups about the everyday geographies of California incarceration. More information about the project is available at www.paglen.com.

* Source: A Question of Control by Angela Davis and Cassandra Shaylor. San Francisco Chronicle, April 9, 2000.
..
..
Margaritta Ranjii | Eviction Notice "A,B,C", 2003
Starving, immortal eskimo awakes from 100 years of hibernation, walks the ice in search of living flesh to sustain his weary body, but the world has undergone a nuclear apocalypse and he is the only one left save for one giant, fierce polar bear that also happens to be immortal and starving. muted gusts of blizzard breath; strident and distorted, loping and stumbling across arctic wastes, punctuated by keening arcs of atavistic bloodlust: you must fight to live.
..
..