Angelo, Drawings
-
July 7 to August 19, 2000. Opening service July 7, 5 - 10 pm. Hours: 12 - 5 Saturdays. Marc Fischer hosted a discussion of the exhibition on Saturday, July 8 at 1 pm.
Angelo is a 56 year old artist currently incarcerated in the California prison system. A lifelong draftsman of extraordinary ability, this will be the first concentrated exhibition of Angelo's work. On Saturday, July 8 at 1 pm, Temporary Services will host an open discussion of Angelo's work and the many issues it raises. Marc Fischer will be available to discuss, among other topics, his relationship with Angelo, the nature of art-making in prison, moral issues raised by the Angelo's drawings, and the multitude of problems attached to the exhibition of work by artists and authors not working within the gallery system.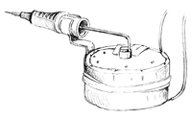 Prisoners' Inventions -
Drawings, a book, recreated inventions made by prisoners, a replica of a prison cell, and more.
This project was a collaboration with Angelo, an incarcerated artist. He illustrated many incredible inventions made by prisoners to fill needs that the restrictive environment of the prison tries to supress.
Read more: