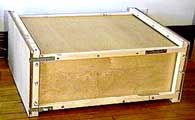 Portable Temporary Services -
Designed and built by Nicolas Floc'h
The Portable Temporary Services can travel to remote locations and function as an instant office, meeting space, exhibition context and more.
Portable Temporary Services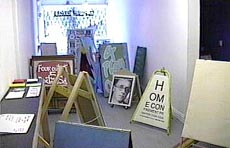 Mobile Sign Systems -
Sandwich boards placed in public places
Mobile Sign Systems was a temporary, public art project organized by Marc Fischer. Artists created hinged, free-standing sandwich board signs closely resembling the design commonly used by gas stations, car washes, and produce stands.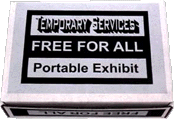 Free For All Portable Exhibit -
An easily transportable version of our Free For All event.
Over 10,000 objects were given away! Over 50 artists, individuals and organizations contributed work that was distributed for free at this one-day-only event. Artists' work was integrated with a wide range of material submerging the work in a broader context than it normally enjoys. Religious tracts, booklets, flyers, stickers, matchbooks, posters, audio tapes, and postcards were among the items given away. It is a continuing goal of Temporary Services to seek new ways of presenting work and increasing the audience for it. For this reason, we have chosen to present this project at a more open and public location.

100 boxes (like the one pictured above) were provided for free. Visitors were invited to take anything they wanted making their own portable exhibitions to take with them.
The Audio Relay is an autonomous radio station plus a music and sound archive. It travels from city to city gathering and presenting the work of musicians, sound artists, documentarians, and people whose work can be listened to. The Audio Relay houses a 4 watt FM transmitter, a folding antenna, a 30 watt amplifier, two speakers, two drawers that hold up to 200 cds and cdrs, a cd player, two solar panels on a detachable cover, one chair and has storage space for posters and other informative material.
The Audio Relay is compact and easy to move around. Its dimensions are 22 1/2 in. x 22 1/2 in. x 9 in. The Audio Relay can be set up anywhere. The solar panels provide some of the power. The Audio Relay can run off any international AC power source or, for remote locations, a 12volt car battery. The battery can be re-charged by the solar panels or by plugging the unit in to a wall outlet.
The Audio Relay can play music for an intimate audience as well as broadcast material in a radius of up to a mile away.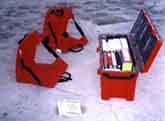 Binder Archives -
Designed and built by TS
Binder Archives is a portable exhibition that is designed to travel with the greatest of ease. In Binder Archives, three-ring binders and their European equivalents are used as a mode of presenting or containing large quantities of material and information. For this project, individual artists, exhibition organizers, creative people, archivists and groups have produced binders that they have filled with photographs, drawings, documentation, photocopies, printed ephemera, tactile objects, or any other material that can be punched with three holes or stored in a binder. Each binder is a self-contained project or archive of a person's or group's work. Some of these individual binders contain as much material as one might expect to find in an entire exhibit or a book. Viewers can freely handle the binders just as they might browse through books in a reference library.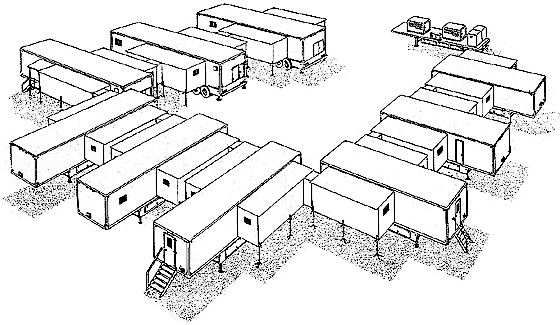 Mobile Structures Resources -
An archive of mobile structures.
This archive of Mobile Structures is intended to serve as a resource for people that currently use Mobile Structures, that are interested in developing new mobile structures, and that are interested in the ideas that inform these practices. Mobile Structures are incredibly diverse in function and design. They exist for innumerable reasons, from military applications to basic entertainment purposes. This site attempts to present the vast array of individuals, organizations, and corporations that are using or marketing mobile structures to provide services, present ideas, and perform outreach.