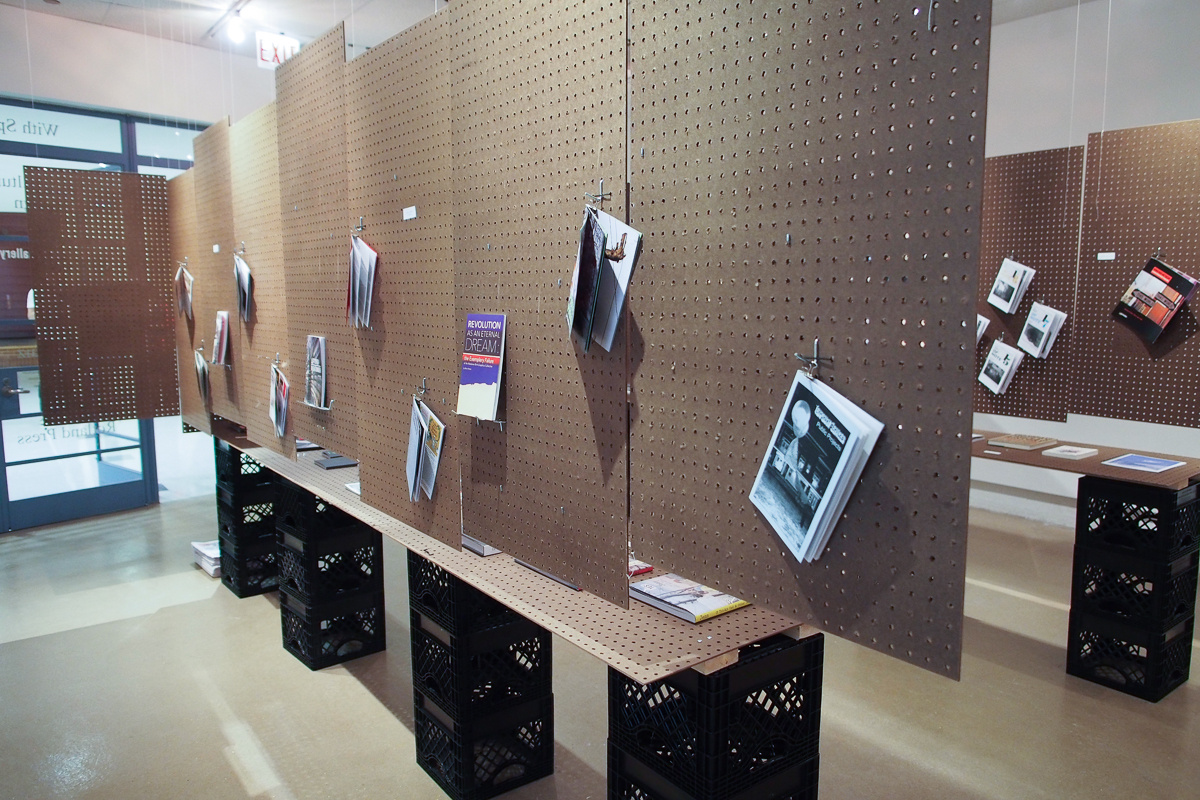 Our publications + contribution to the publication – Publisher! Publisher!, NEIU Art Center Gallery, Chicago, IL, June 13 - July 25, 2014
With special guests:
Booklyn (NYC)
Cantab Publishing (Chicago)
Esopus (NYC)
Justseeds Artists' Cooperative (Pittsburgh/All-over)
K48/Scott Hug (NYC)
Megawords (Philly)
Office of Culture and Design (Philippines)
& Pens Press (LA)
Pre Libri (Japan)
Publication Studio (Portland, OR)
Rotland Press (Detroit)
Francsec Ruiz (Spain)
Siglio (LA)
Temporary Services (Chicago/Copenhagen)
Torpedo (Norway)
Ugly Duckling Presse (NYC)
Work Press, (St. Louis)

Project Essay:
Who Publishes the Publishers?
I could write pages and pages about why I like books, ranging from the unprecedented historical importance of the day the codex and printing press met, to the countless innovative ways artists and writers have found to fill these discrete, indexical containers.
Don't get me wrong, I'm not a luddite, but I fret about the design problems inherent in our glowing rectangles, the shortcomings of the hypertext scroll, the tyranny of the search term, and the corporate and ideological systems hidden under the surfaces of our information age. In my opinion, old-technology books often elegantly sidestep these new-technology problems. However, more interesting than the content delivery wars is what happens when creatives move in and start playing with book technology.
Of course, creative hacking of book technology has been around for as long as there have been books. A sampling of artist's books can give a sense of the variety of bibliophilic interventions through time, from the truly eccentric (William Blake), to the avant-garde (Futurists, Vorticists, Constructivists, Dada, Surrealism), to intellectual deconstruction (Concrete Poetry, COBRA, Dieter Roth, Ed Ruscha), to the boldly experimental (John Cage, Fluxus, Yoko Ono, Johanna Drucker, Claire Van Vliet), to the slow explosion of contemporary artists books.
And this brief list doesn't take into account the compelling worlds of zines, underground comics, experimental writing, poetics, etc. The contemporary scene of hard text publishing is a thriving world of people modeling alternative textual experiences, documenting important and mundane events, and creating room for thought experiments. And what is most interesting is that the divide between the publishers and the makers is closing; the content creators are the publishers. This is not vanity publishing; rather, publishing has become an important part of an art practice. It's a method for getting the work out of the gallery or the bookstore and into the hands of a diverse audience, as well as a means to circulate ideas in a community of makers. It's about putting something in someone else's hands.
Q: Seriously, though, that sounds cool and avant-garde and everything, but who has time to sit and read a book anymore?
A: I'm glad you asked; that question is really the impetus for Publisher! Publisher!. In conceiving of this exhibition I wanted to celebrate the work of a handful of small press publishers, using their talent and diversity to speak for the larger community of book publishers working today.
I also aimed to create a space that invites the audience to spend a few minutes doing what I most want to do: slow down and read a book.
And I wanted to create a publication that would have a life after this exhibition closes.
---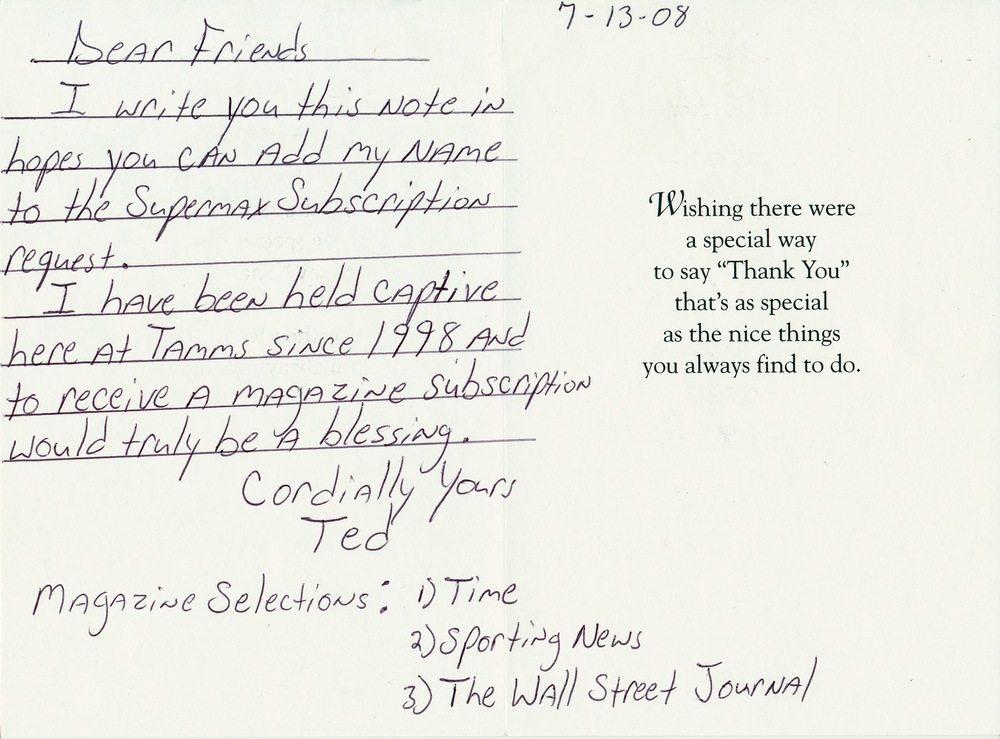 Supermax Subscriptions – TO SHOOT A KITE, Curated by Yaelle Amir, Cue Art Foundation, NY, July 5 - August 2, 2014
This exhibition was the winning selection of the 2013 Open Call for Curatorial Proposals. This program provides one deserving curator the necessary time and resources to realize an innovative project, with the aim of encouraging curatorial research in tandem with exhibition planning. The proposal was unanimously selected by a jury comprised of Suzanne Kim, Director of Exhibitions, SmackMellon; artist Pablo Helguera; and artist and 2013 Guggenheim Fellow Laura Parnes.
ARTISTS: Julie Green, Ashley Hunt, Lucky Pierre, Prison and Neighborhood Arts Project (P+NAP), Sarah Ross, Dread Scott, Jackie Sumell, Tamms Year Ten, and Temporary Services.
In prison-speak, a 'kite' represents notes or letters and 'to shoot a kite' means to send a message. The projects included in this exhibition represent the work of a select group of artists who have set out to relay the severe conditions of inmates and expose this broken system. In so doing, they are reframing the narrative surrounding the incarcerated—providing a platform for public expression and advocating for change both from within and out of the prison system. Each project takes on a different form—from documentation and data visualization to offering services and advocacy—+that provides a link between the incarcerated and the outside world, portraying their conditions, and personalizing the abundant yet anonymous data about the prison system.
Catalogue includes essays written by Yaelle Amir, Ashley Hunt, and Lilly Lampe.
---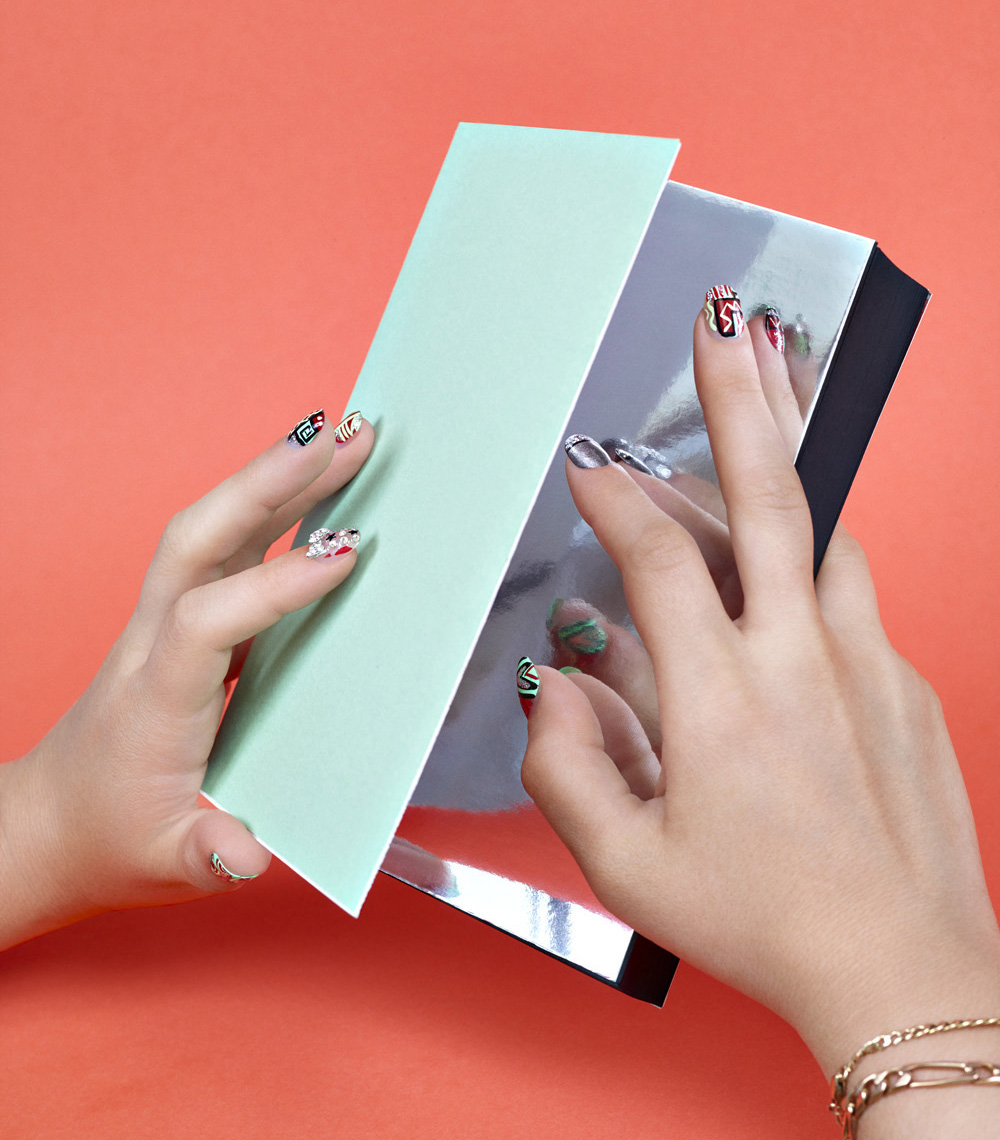 Our publications – MEDIUM COOL Art Book Fair, Chicago, IL, Sunday, August 10, 2014, 10 AM - 8 PM
Prairie Production
1314 W Randolph St
Chicago Il
60607

info@medium-cool.net.
---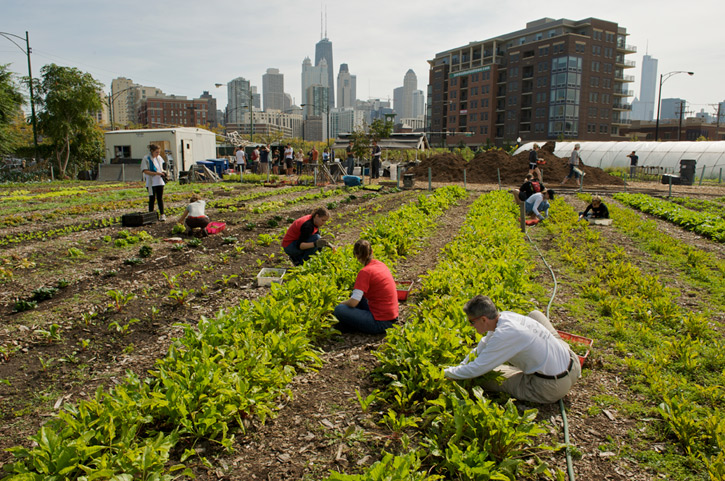 We will be attending – A Lived Practice, The School of the Art Institute of Chicago, Chicago, IL, November 6 - 8, 2014
An international conference on art and social practice organized by SAIC's Department of Exhibitions and Exhibition Studies.
Can art practice help us to cultivate a life practice?
This driving question seeks to take up the age-old question of what role can art play in making meaning in our lives, while probing more contemporary concerns about the artist as community practitioners and social change-makers.
Over an intensive weekend, artists, art students, and those considering the role of art in their own life practice will join artists and thinkers to contemplate why art is a meaningful way to live. Featured participants include: Lewis Hyde, poet, essayist, translator, cultural critic, and author of The Gift and Trickster Makes This World; Ken Dunn, philosopher, recycler, gardener, and founder of the Chicago Resource Center and City Farm; Ernesto Pujol, social choreographer, performance artist, and former monk whose embodied practice is a way of living and teaching; Crispin Sartwell, philosopher, journalist, educator, and author of The Art of Living: Aesthetics of the Ordinary in World Spiritual Traditions; and Wolfgang Zumdick, philosopher, curator, educator, and author of Death Keeps Me Awake: Joseph Beuys and Rudolf Steiner, Foundations of their Thought.
A full program and registration information will be released in early fall.
Curated by Mary Jane Jacob with Kate Zeller, this conference is held in conjunction with the exhibition A Proximity of Consciousness: Art and Social Action at the School of the Art Institute of Chicago's Sullivan Galleries (September 20 – December 20, 2014), and the publication of a four-volume series on Chicago's history of social practice since the 1880s: "Art Against the Law," "Immersive Life Practices," "Institutions and Imaginaries," and "Support Networks" distributed by the University of Chicago Press.
Support for this symposium is provided in part by Salzburg Global Seminar and Goethe-Institut Chicago, as well as SAIC's academic consortium partners: Columbia College Chicago, DePaul University, Northwestern University, University of Chicago, and University of Illinois at Chicago.
---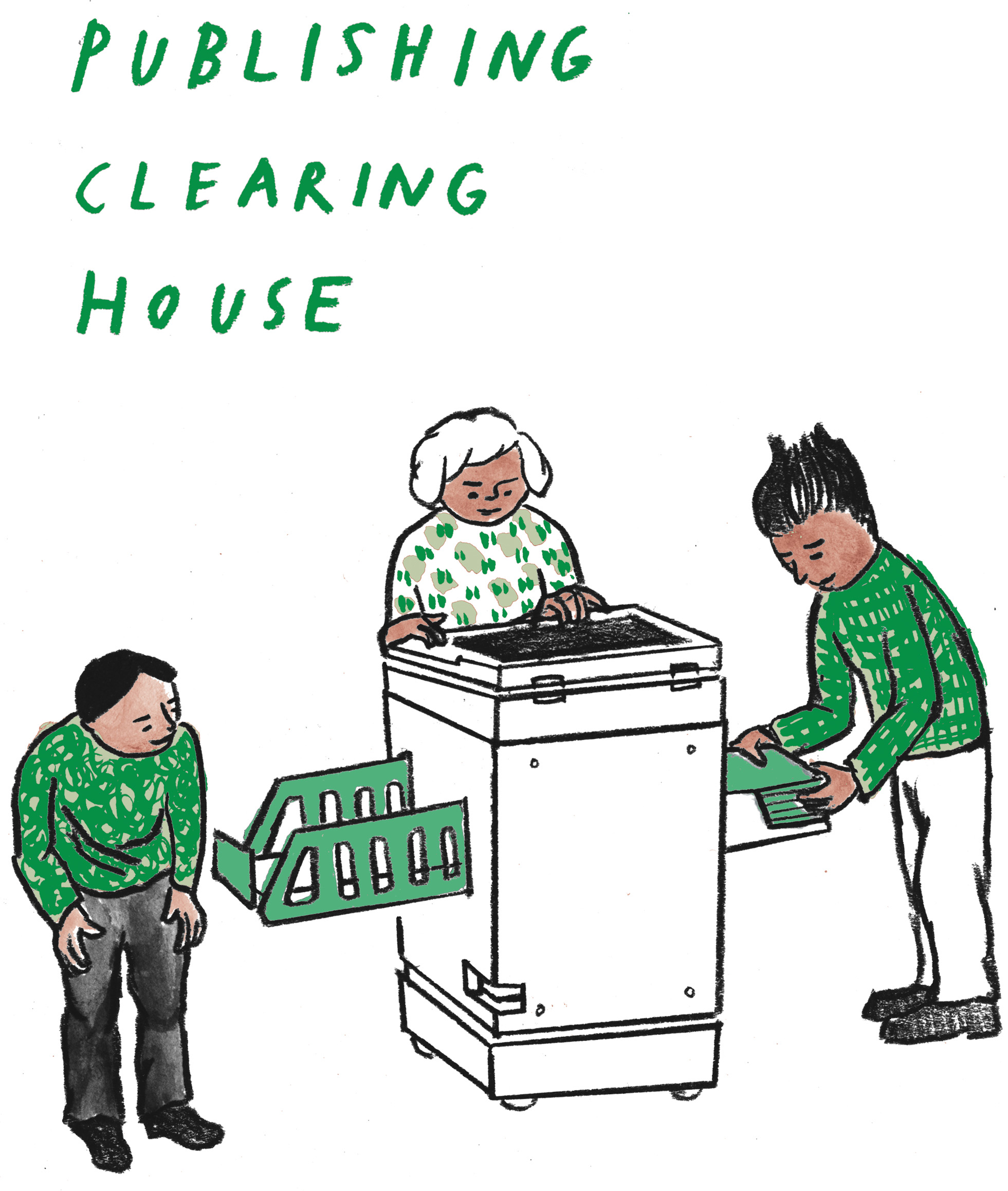 Illustration by Kione Kochi
Publishing Clearing House – Proximity of Consciousness: Art and Social Action, Sullivan Galleries, The School of the Art Institute of Chicago, September 20 - December 20, 2014
ABOUT PUBLISHING CLEARING HOUSE:
Temporary Services has produced a booklet for nearly every project we have done for the past 15 years. The result is 101 publications, as well as numerous posters and ephemera. In 2008 we started Half Letter Press, a publishing imprint that produces and distributes book-length works. Thus far, Temporary Services has never made publishing—as a living, breathing, collaborative, generative, and empowering activity—the center of an exhibition.
In banking and finance, clearing denotes all activities from the time a commitment is made for a transaction until it is settled. In Publishing Clearing House, clearing denotes all activities from the time a commitment to an author is made, until the publication is designed, printed, stapled, folded and distributed. Making a clearing is also about creating a space for meeting and making processes visible, open and transparent.
Publishing Clearing House be a temporary, fully functioning print shop. Members of Temporary Services and assistants, will work with invited collaborators to produce new booklets and printed works during the run of the show—sharing and launching publications. Visitors will be able to meet Temporary Services and authors and watch the mechanics of the print shop as works are developed and created.
We are inviting a diverse range of invitees with an emphasis on Chicago, the Midwest, and a particular interest in artists, activists and authors from marginalized and disadvantaged populations including juveniles and the incarcerated, as well as people who represent or articulate narratives counter to dominant cultural norms.
A short article about us that introduces Publishing Clearing House: Read the article
---

Chicago Social Practice History Series, Published by the School of the Art Institute of Chicago, Distributed by the University of Chicago Press, Series editors: Mary Jane Jacob and Kate Zeller
This series of four, 225-page illustrated books examines for the first time Chicago's thinkers and makers that have defined the intellectual and creative life of this city. With nearly 30 chapters each, these volumes locate Chicago's critical social thought and practices within a history of modern urban change and its commensurate societal issues as played out in the complexities of its communities. The inspirational starting point is Jane Addams; our mission is to recall movements and collectives in the 20th century; and the need in the fields of art, architecture, and design is to recognize Chicago's present-day committed practitioners, offering a depth of geographic and historical context for the work they continue around social design, including education, housing, food, ecological urgencies, prison reform, and much more.
Follow the link below to get detailed descriptions of each of the books.