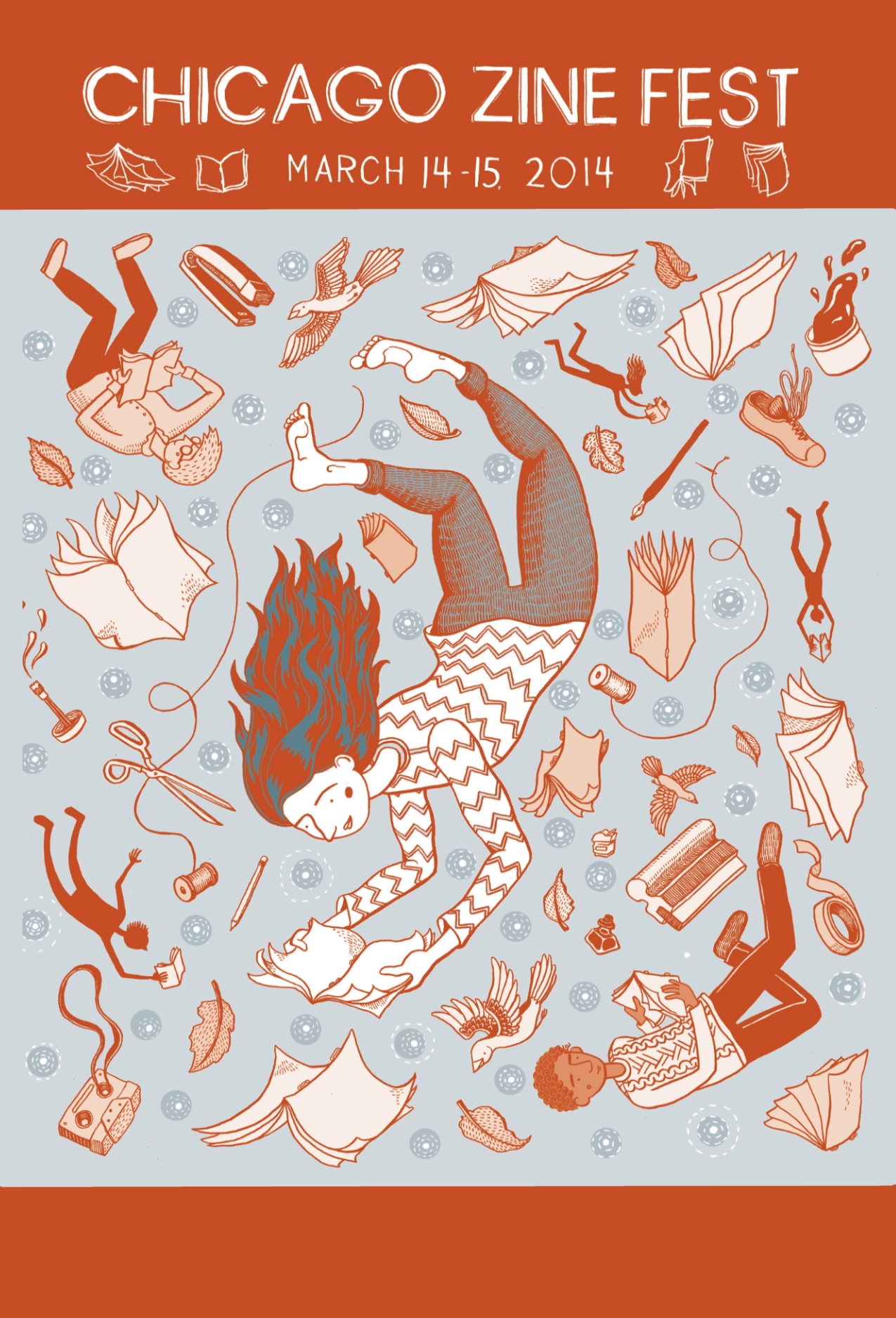 Temporary Services and Half Letter Press – Chicago Zine Fest, March 14 -15, 2014
The Chicago Zine Fest is an independent event creating an outlet for small press and independent publishers to showcase their work. Our goal is to make DIY zine-making accessible, highlight the talents of self-published artists, and give independent artists a chance to interact, and swap skills through tabling, community events, and workshops.
---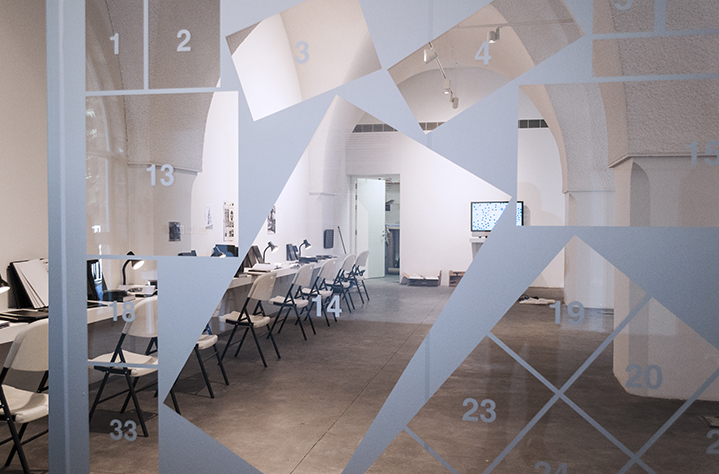 Our Publications – Critical Machines, AUB Art Galleries, American University Beirut, Beirut, Lebanon, March 6 - June 26, 2014
Artists in the Exhibition: Art & Language, Burak Arikan, Freee art collective, Janah Hilwé, Khalil Rabah, Vadim Zakharov
And
A Bookshelf with critical machines by: André Breton, Critical Art Ensemble, Marcel Duchamp, Andrea Fraser, Heresies Collective, William Hogarth, György Galántai and Júlia Klaniczay (Artpool), Kenneth Goldsmith, Hans Haacke & Pierre Bourdieu, Pablo Helguera, Garnet Hertz, Wassily Kandinsky, Allan Kaprow, Hassan Khan, Andrei Monastyrsky, William Morris, Walid Raad, Ad Reinhardt, Temporary Services, Gregory Sholette, Nasrin Tabatabai and Babak Afrassiabi and others
Curator: Octavian Esanu
AUB Art Galleries
---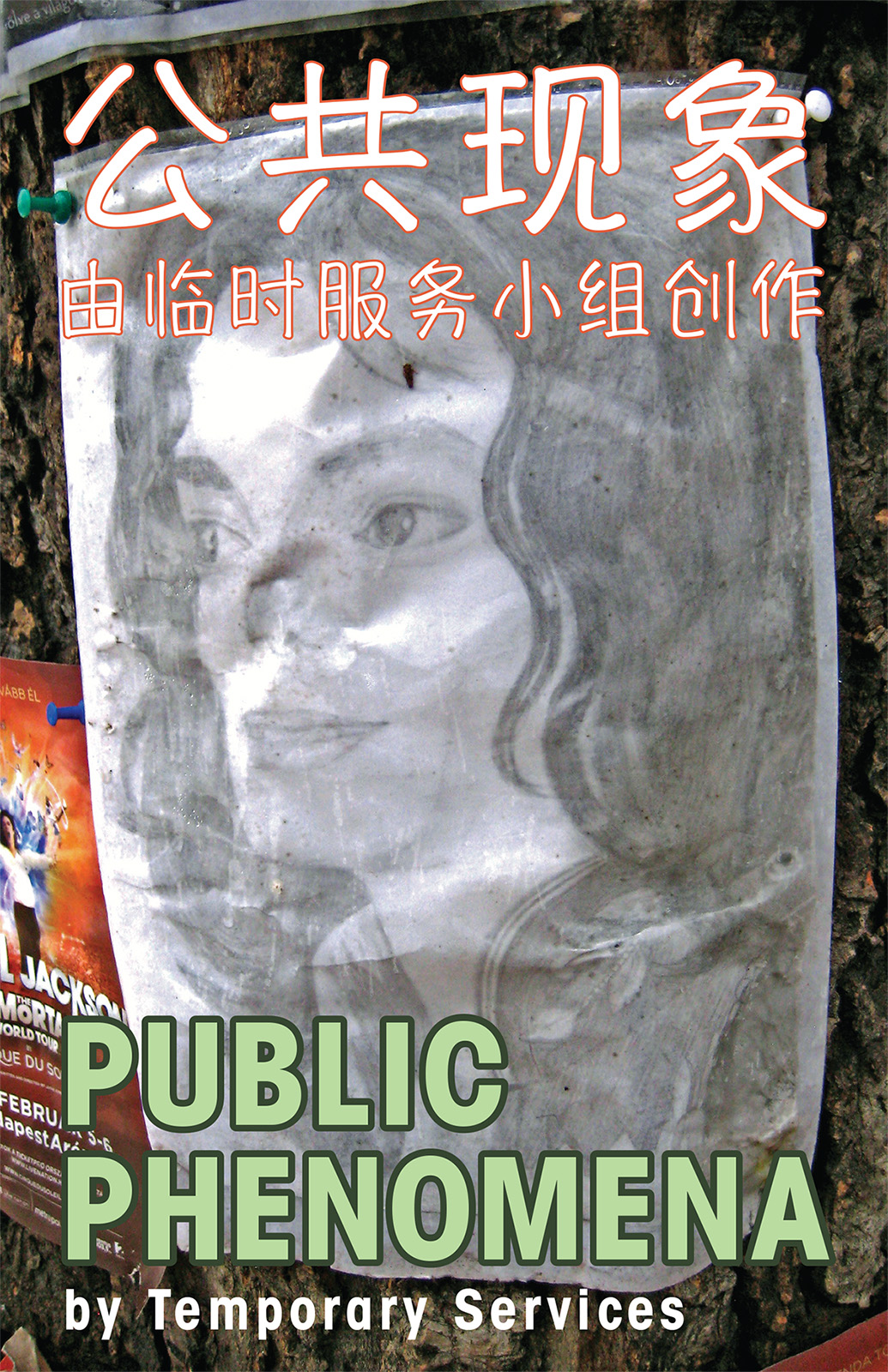 Our Publications – The Second CAFAM (Central Academy of Fine Arts Museum) Bienniale, The Inivisible Hand: Curating As Gesture, Beijing, China, February 28 - April 20, 2014
We are in the section of the Biennale called "Game Theory" curated by Angela Jerardi.
We made a brand new publication to accompany the exhibition. You can download it here PDF
FROM THE PR ABOUT THE BIENNALE:
The title of the Biennale—The Invisible Hand—refers to Adam Smith's metaphor describing the self-regulating behavior of the marketplace. In the context of the six respective exhibitions the metaphor is extended to intimate something of the histories, methodologies, and theories that inform curating, without leaving visible traces of their impact.
While they offer a variety of interpretations of the overarching theme, Smith's presence is directly acknowledged in artistic gestures of political, social, sexual, and imaginative resistance to dominant modes of liberal politics and capitalist economics.
At the same time, the museum is revealed as a theater of objects, which despite the mechanisms of display and interpretation yet enact their own tales. Its dense acreage of its storage areas is additionally understood as humanity's cellar, the contents of which mirror our histories, while temporary displays in the galleries only reflect our prevailing ideologies. Curatorial and the artistic gestures of selecting, arranging, organizing, and displaying overlap and collide. Modes of classification favored by modern museology are usurped by artistic acts of selection and sorting which eschew order in favor of rupture.
Through the exhibition and its associated conference and publication, the Biennale will thus highlight and promote the role of curating as a practice that constructs knowledge as part of an expanded ecology, which is integrated with academic education and social practice.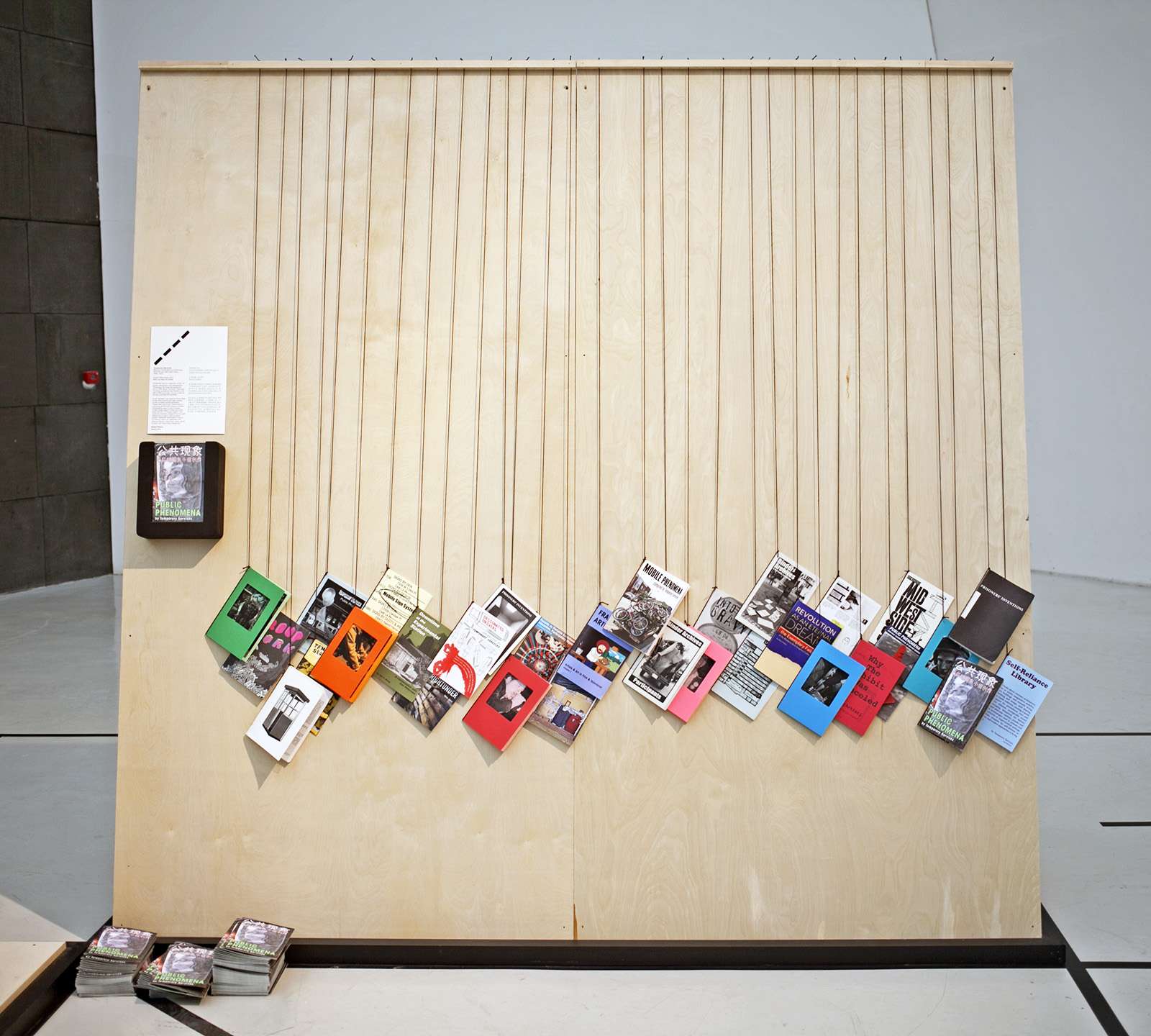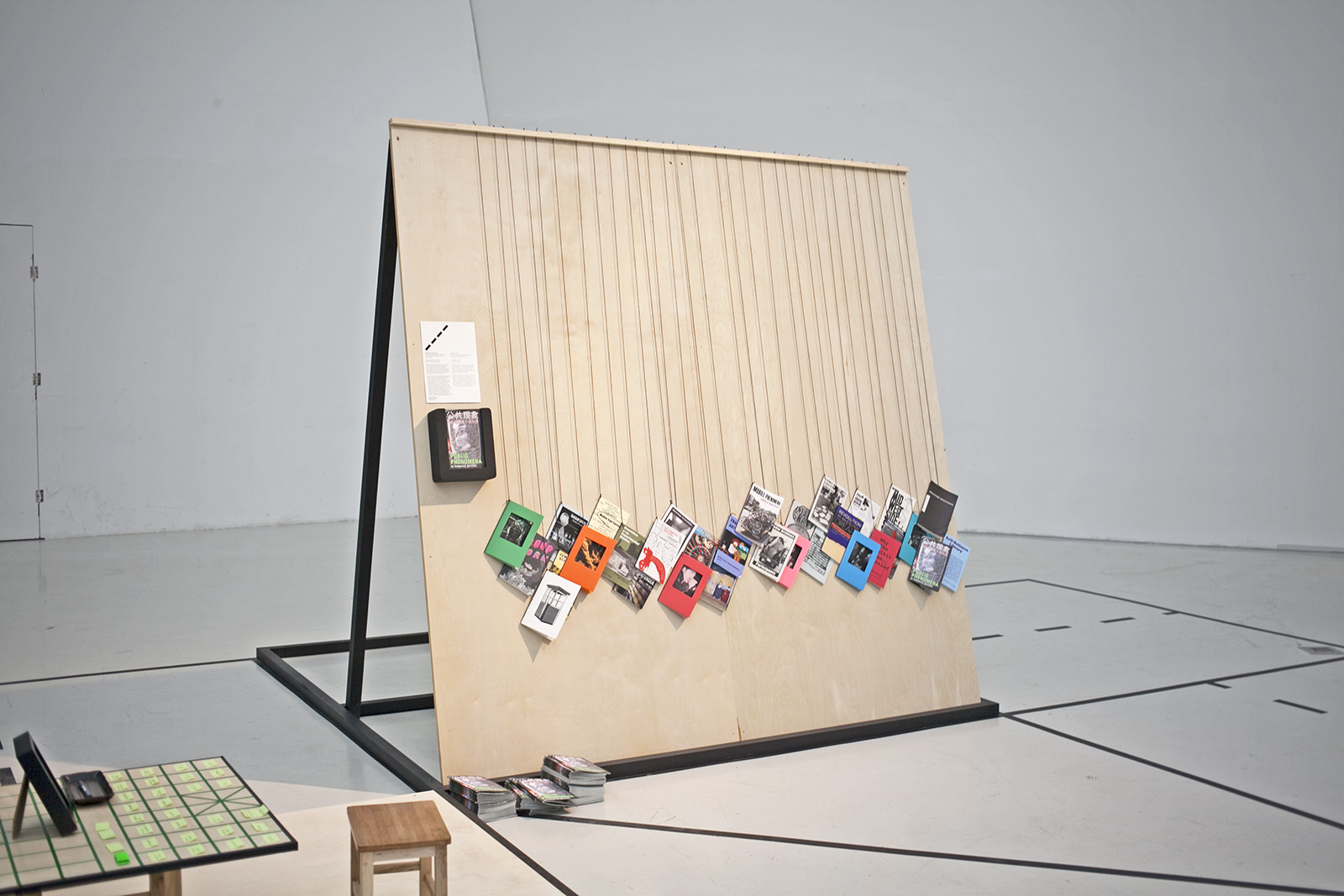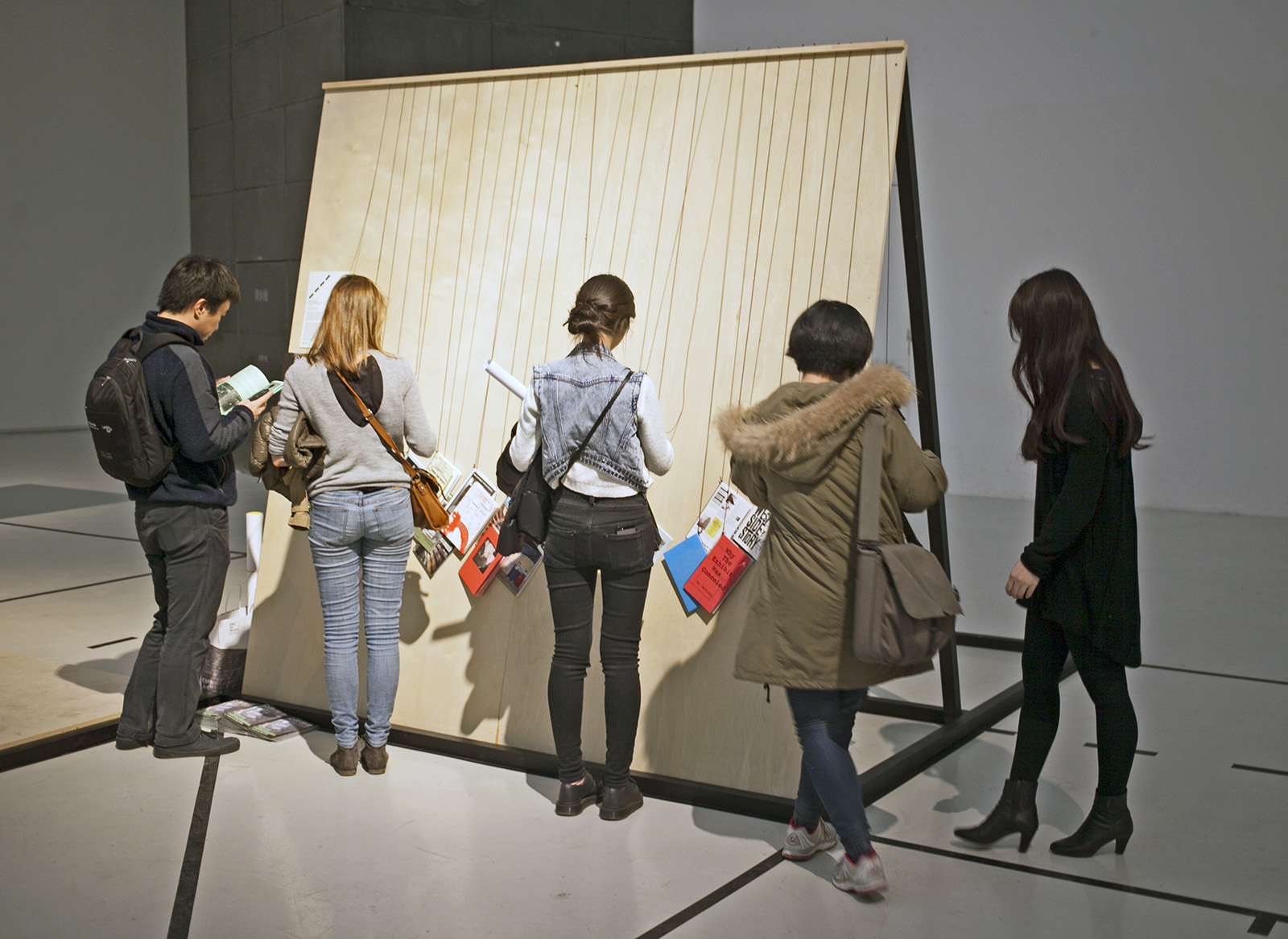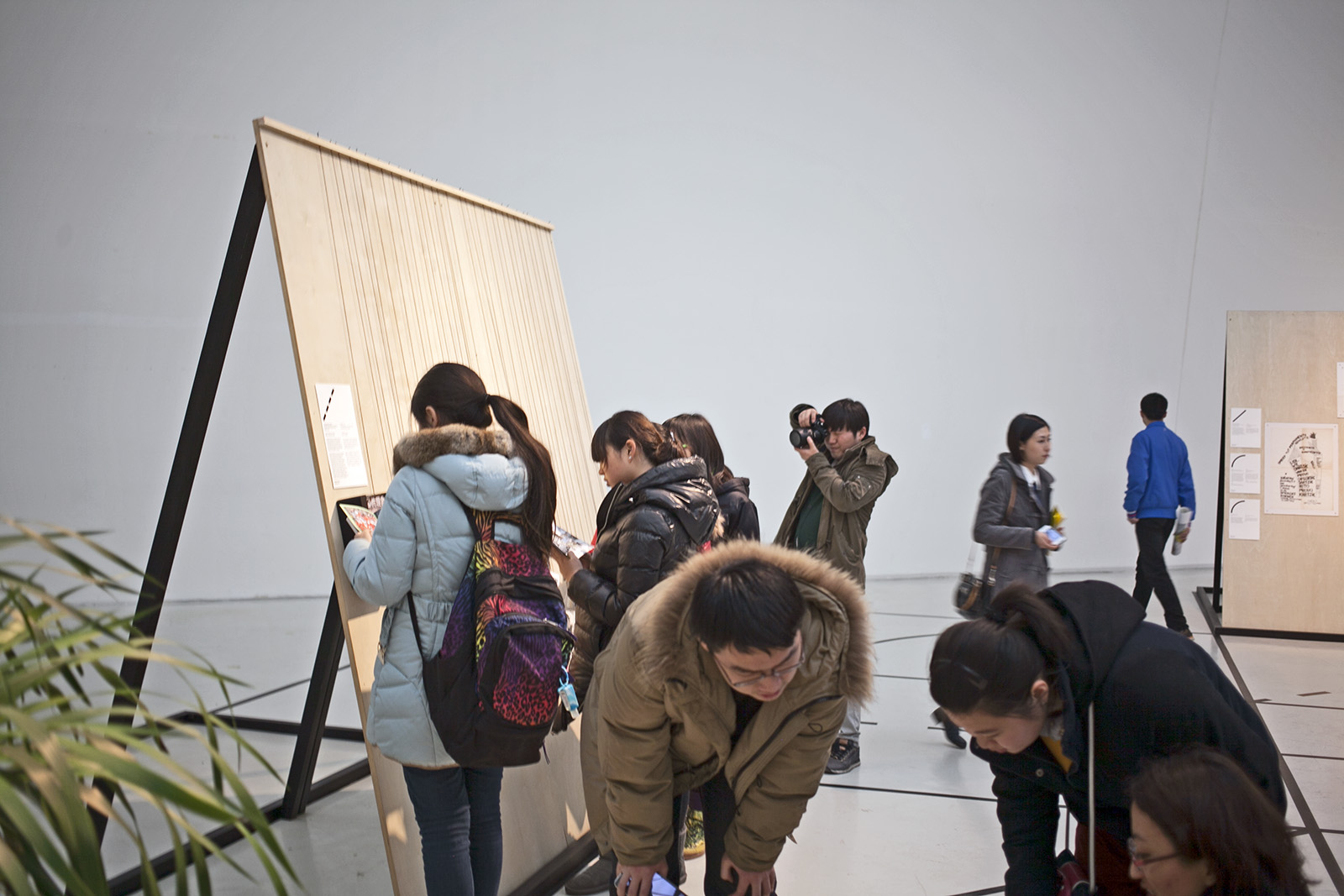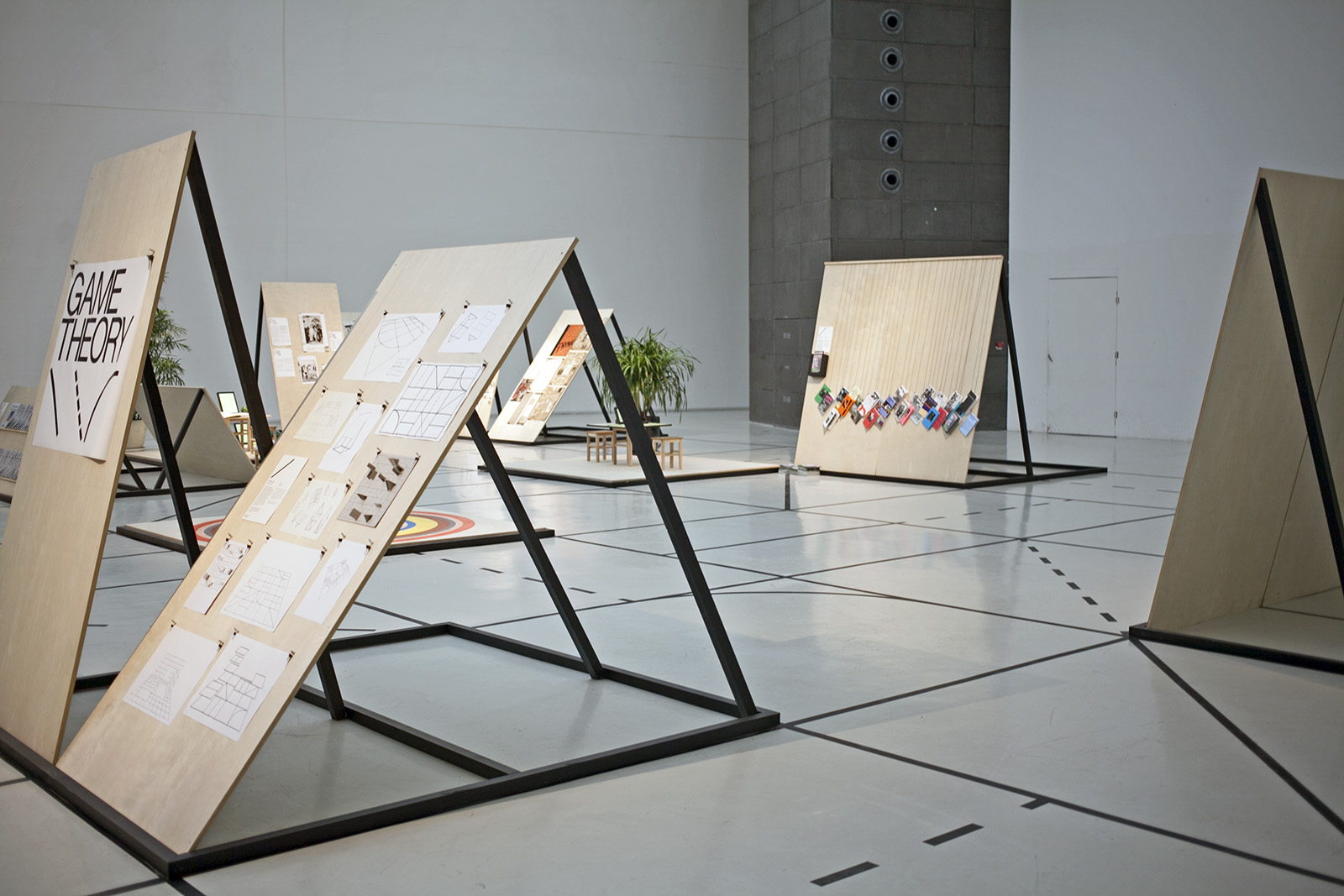 ---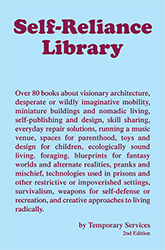 Self-Reliance Library – Beyond The Paint: Philadelphia's Mural Arts, Pennsylvania Academy of the Fine Arts, Philadelphia, PA, November 15, 2013 - April 6, 2014
We are presenting our Self-Reliance Library in this exhibition. The Self-Reliance Library contains, "Over 80 books about visionary architecture, desperate or wildly imaginative mobility, miniature buildings and nomadic living, self-publishing and design, skill sharing, everyday repair solutions, running a music venue, spaces for parenthood, toys and design for children, ecologically sound living, foraging, blueprints for fantasy worlds and alternate realities, pranks and mischief, technologies used in prisons and other restrictive or impoverished settings, survivalism, weapons for self-defense or recreation, and creative approaches to living radically."

The exhbition surveys the history of surveys the history of Mural Arts Program's past 30 years of activity. We have not worked directly with MAP, but the work we do is being displayed to give a broader context to what they do and the wide field of cultural work that engages various communities and audiences.
Our booklet for this exhibition is our 100th! Here is a link to a low res. version: PDF If you come to the exhibition at PAFA, you can get a paper copy for free. Copies of high resolution PDFs and paper versions of the booklet are available from Half Letter Press.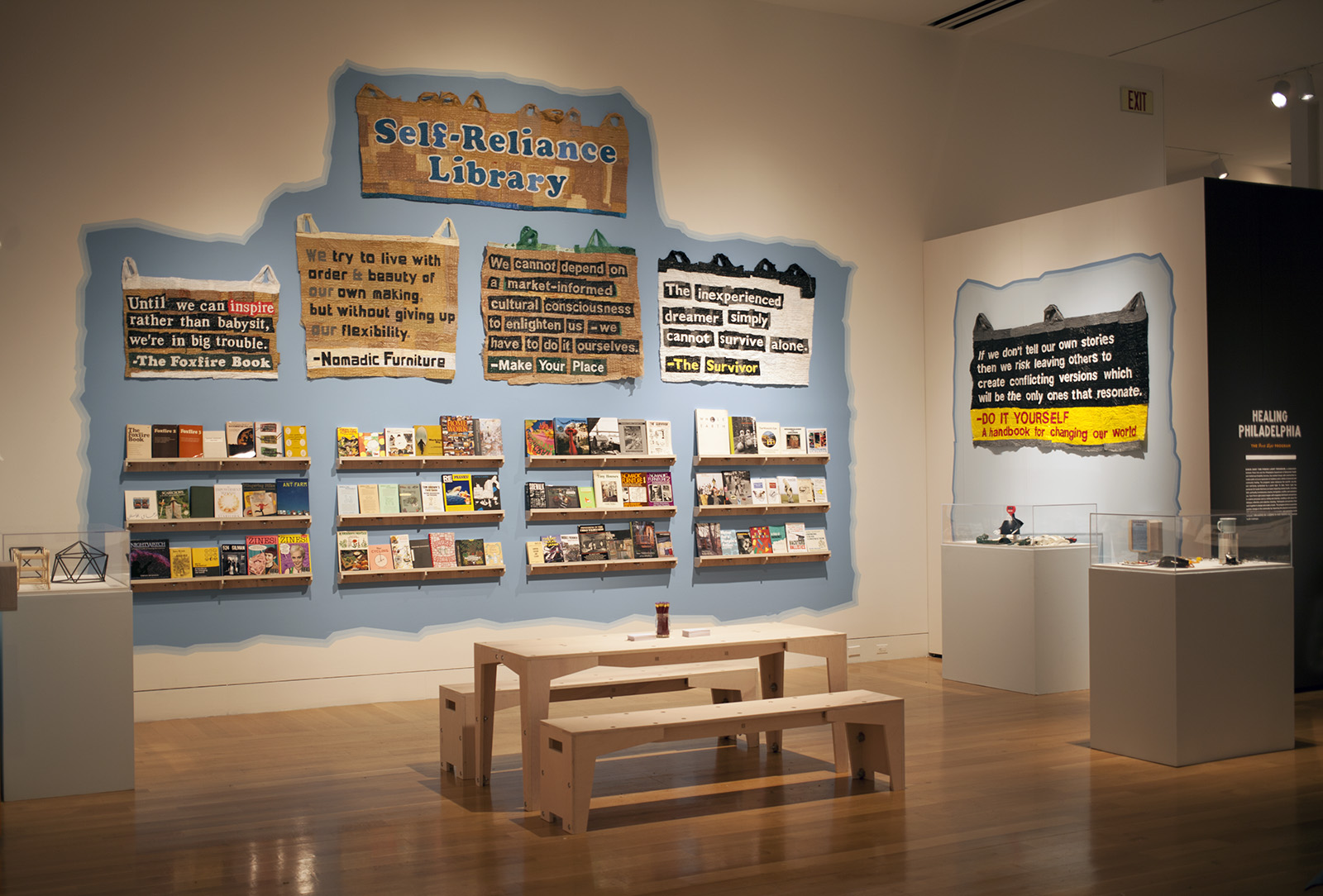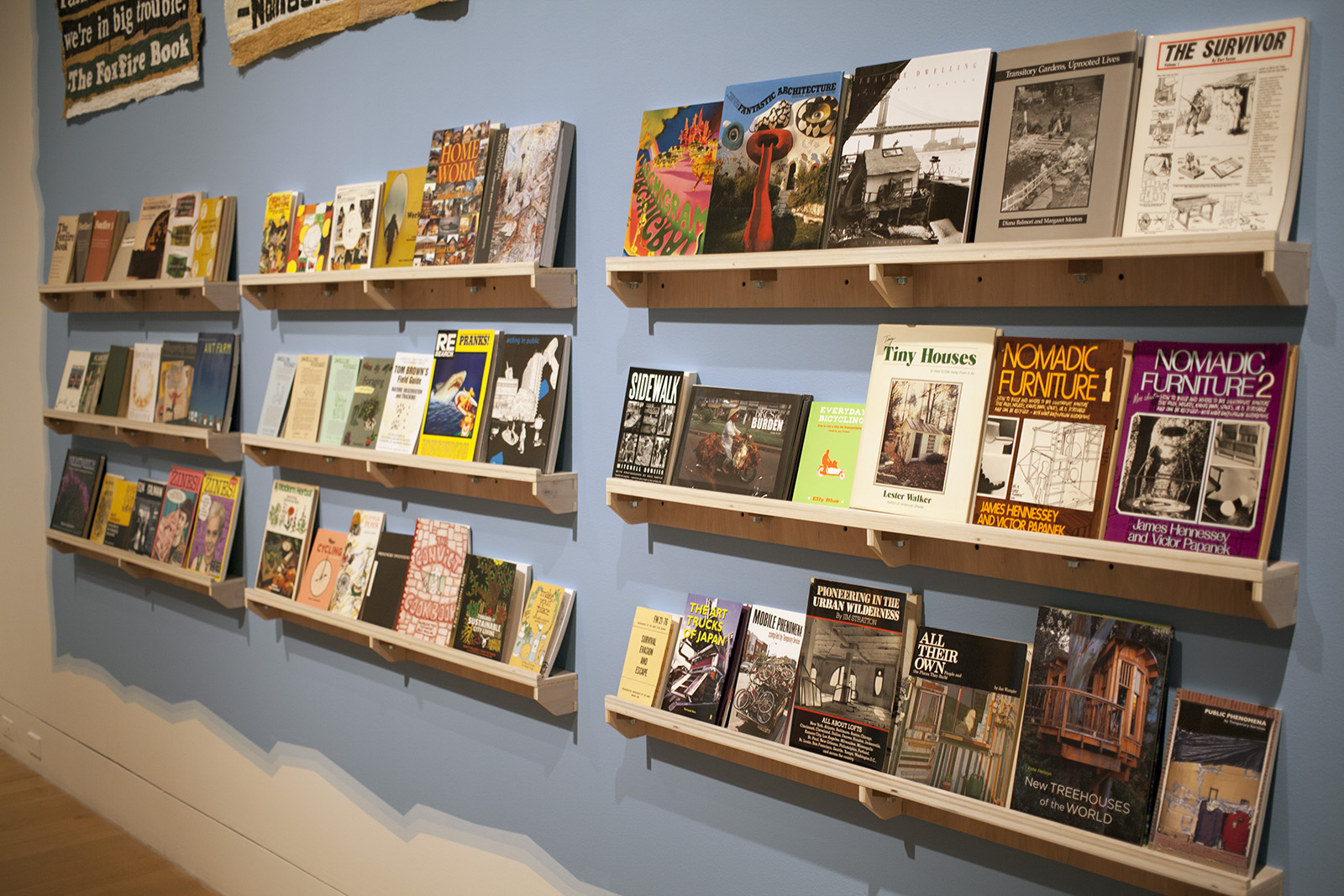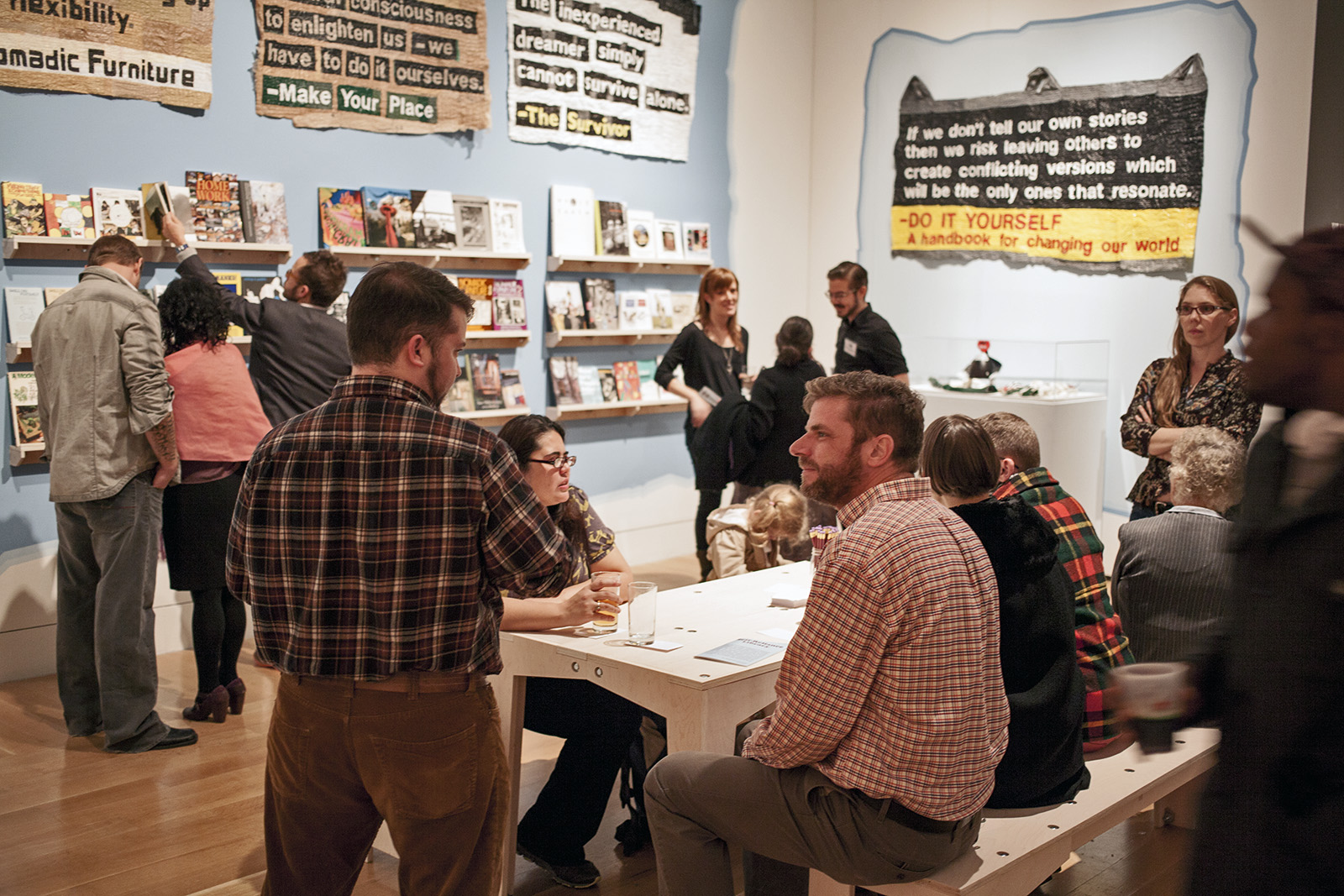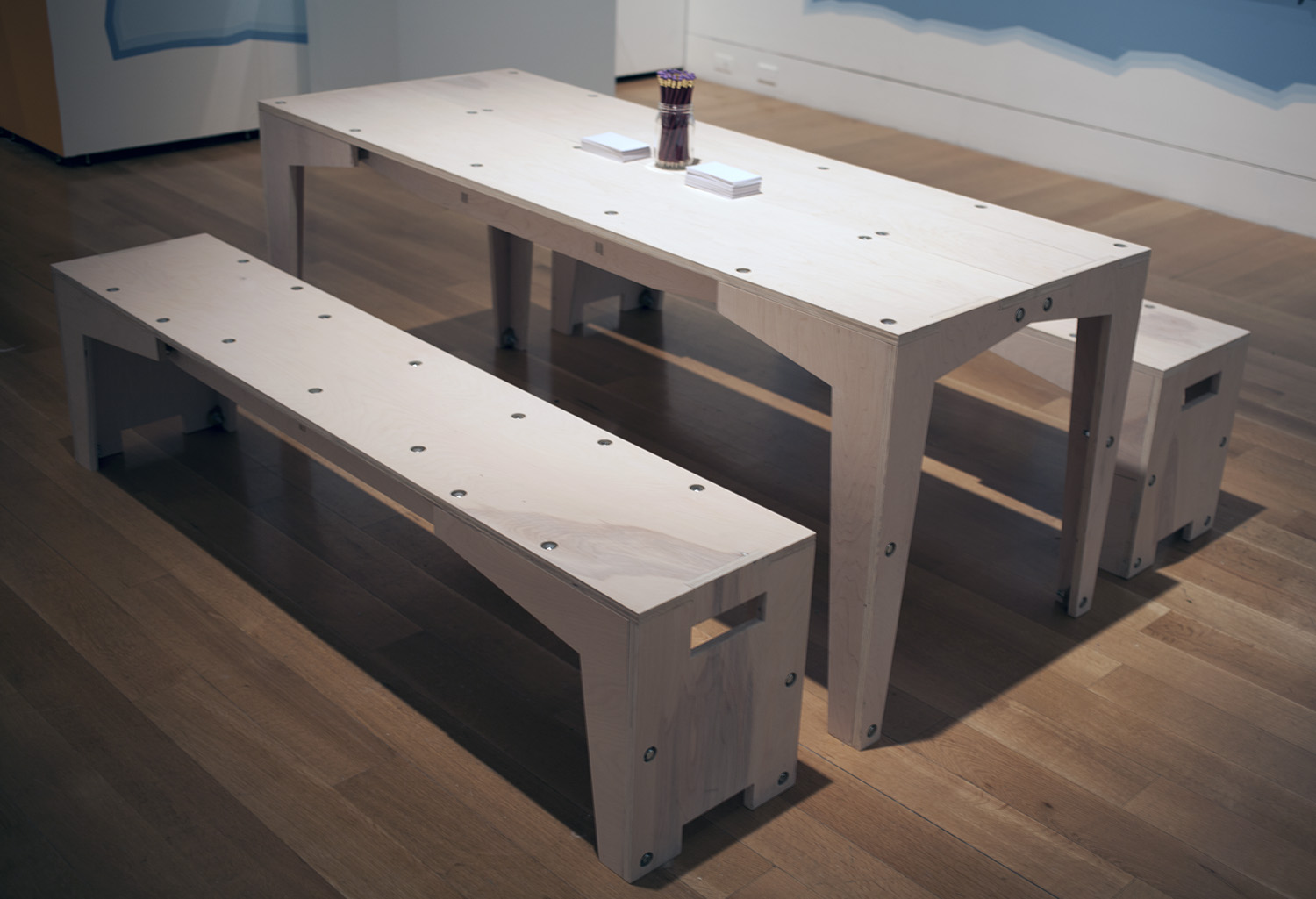 We have organized two events to compliment the Self-Reliance Library's inclusion in this exhibition: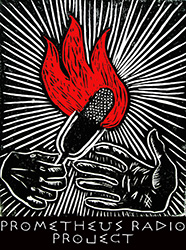 A discussion with the Prometheus Radio Project
Sunday, March 23rd, 2-4pm
In the age of the internet and social networking, what lessons can be learned from community organizing through community radio? How does this medium stay relevant and become the cornerstone of a community? Join the Prometheus Radio Project for a discussion of their 15 years of work in the field of community radio, and what lies ahead for the next wave of stations that will go on the air in 2014.
Based in Philadelphia, the Prometheus Radio Project builds participatory radio as a tool for social justice organizing and a voice for community expression. To that end, we demystify media policy and technology, advocate for a more just media system, and help grassroots organizations build communications infrastructure to strengthen their communities and movements.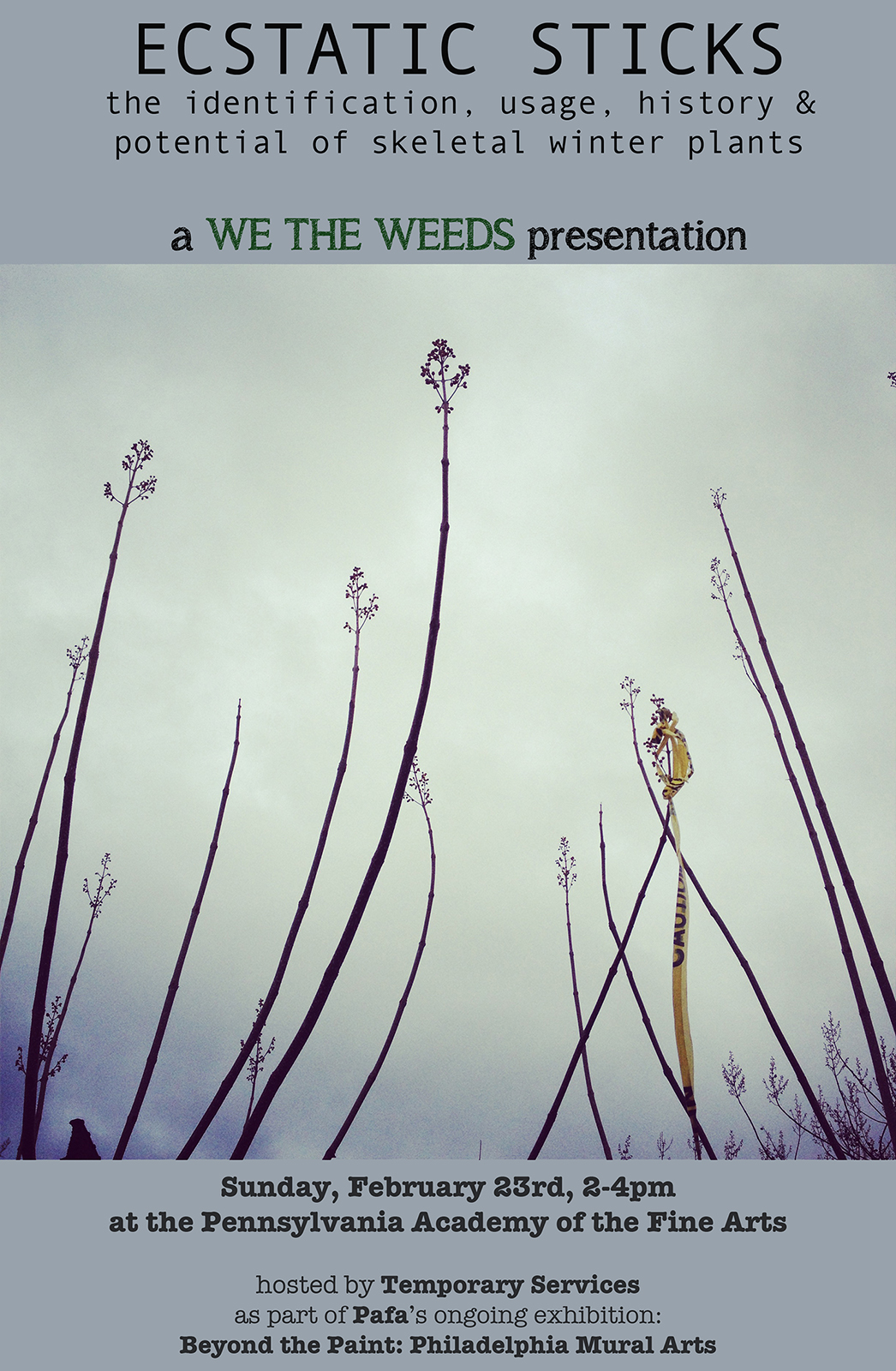 WE THE WEEDS presents
ECSTATIC STICKS: The identification, usage, history & potential of skeletal winter plants
Sunday, February 23rd, 2-4pm
Beneath the icy cloak of winter, Philadelphia plant life quietly hatches a plan for spring. Look closely at any stick, switch or branch, and you will see buds, nodes, scars and other indicators of the lush and vibrant forms that lay ahead.

Join WE THE WEEDS botanical arts duo Zya S. Levy and Kaitlin Pomerantz for a presentation and workshop on the exuberant, though latent, potential of the stick: a plant's final, woody appendage and storehouse for explosive new growth.

This event will include an introduction to winter botany, hands-on stick anatomy and identification. Event will take place indoors.

Free and open to the public.

ABOUT WE THE WEEDS:

WE THE WEEDS is a botanical arts and outreach project aimed at expanding knowledge of the wild plants of Philadelphia, headed by artist Kaitlin Pomerantz and botanist Zya Levy. The project encompasses a variety of artistic interventions highlighting the presence of the natural world within the manmade landscape. Past projects include ethnobotanical tours, art installations, culinary and sensory plant experiences, participatory science experiments, school and public outreach— all aimed at illuminating the uses, historical and cultural significances of spontaneous wild urban flora (weeds!). WE THE WEEDS has completed projects for Practice Gallery, the City of Philadelphia Mural Arts Program, the Asian Arts Initiative, and was selected as a finalist for the Philly Stake Grant.