Special guests: Mike Adams and Isaiah Spencer(both on drums), Monika Wuerher
"Viennese Lounge" is a series of exhibitions and simultaneous events which incorporate various areas of new media and will take place at changing venues. Presented for the first time in 1998 in Berlin at Dock 11.The artists of "Viennese Lounge" Elisabeth Grübl, Manfred Grübl, Christoph Hinterhuber, Elisabeth Penker, Christoph Cargnelli & Peter Szely all work on the boundaries between areas of new media with differing artistic positions and procedures. These are used to afford an exchange which belongs to the artistic concept of the Viennese Lounge. Just as in the perception of art as communication in which the finished products have no claim to finality but form the basis for experimentation from which further works are evolved. On the one hand the borders of classical art presentation are being crossed here, on the other the producer steps behind the art work again in that it stands for itself and not for the representation of the producer, thereby creating a basis for an exchange of information.
In this sense the "Viennese Lounge" can be understood as a laboratory which is run in the form of a flexible communication platform reacting to situation oriented contexts. The basic concept follows a constant pattern: new works are produced for every project and, as is already the case in Berlin, guest artists, musicians, DJs or also theoreticians from the respective cities are invited to co-operate. A central point is that the project should be carried out at various venues and as a series of events over an extended period of time, whereby the consistent and systematic search for synergies in the different fields should stand in the forefront. The substantial thematisation and visualisation of art in the areas of new media with the background of culturally differing manifestations and their possible interpretation thus appears as an effective form of artistic strategy.
Public Inventions and Interventions
This is a two-part exhibition looking at a broad range of practices, definitions, theories and uses of what is called "public space". Urban ecology, humorous activism, radical art projects, strange private expressions in public spaces and many more things will be presented along side each other mapping out a vastly complex political continuum that makes working in public so engaging.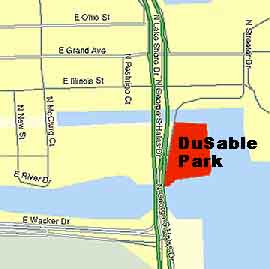 PART 1: DuSable Park Orientation Center - by Laurie Palmer - October 20 - November 3, 2000. Opening service: October 20, 5 - 9 pm.
Laurie Palmer has long been interested in an undeveloped 3-acre parcel of landfill that juts out into Lake Michigan near Navy Pier. A debate is raging right now over the future of this land, now an overgrown meadow. It was donated to the city and given the name DuSable Park. The City of Chicago Park District wants to lease the land to a private company to build a parking lot on the property for two years. The private company would pay rental fees for using the land. The city says this would be done to raise revenue for the eventual development of the property into a park. Residents of the neighborhood, environmentalists, the DuSable League (a South Side organization) and others are opposed to the parking lot.
Laurie wants to expand the limited choice of park vs. parking lot and to explore other uses for this land by opening up the debate to as many voices as possible. She is planning on putting an ad in the Defender, Street Wise and other local papers to solicit proposals for the use of the land. She will also contact housing activists, urban agriculturalists, homeless advocacy organizations, youth groups, and other organizations and individuals in the city who might have some good ideas for how to use three acres of publicly owned lakefront property in the context of the current real estate boom and housing crisis. Laurie will convert Temporary Services' office into an orientation center for two weeks. The center will provide background information including maps, articles, and images, and alternative proposals for uses of the land.
A booklet will be published documenting this project and proposals will be presented at a later time at Temporary Services.
Laurie's web site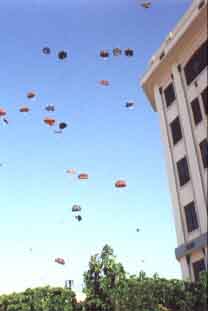 Jorge Rivera's Paracaídas - 200 parachutes thrown out over a square in San Juan

PART 2: Public Phenomena -
November 10 - 28, 2000. Opening service: November 10, 5-9 pm.
Blackstone Bicycle Works, monk parakeet and Dan Peterman
Michael Blum
Biotic Baking Brigade - "The Pie's the Limit" courtesy of Whispered Media
Chemi Rosado Seijo
The Stockyard Institute
Collectivo Cambalache - Museo de la Calle
Reverend Billy
Eco Vida
N55
REPOhistory
Ultra-red (a project for our toll free line: 1-800-731-4973) - "Constitutive Utopias: sound, public space and urban ambience"
Jorge Rivera
Reclaim The Streets
Elyce Semenec
Paul Chan
Urban Exploration - Infiltration and Jinx Magazine
Temporary Services - Public Sculpture Opinion Poll
Participant bios and project descriptions

RELATED LINKS:
Citizen ICAM: http://12.17.79.6/ctznicam/ctznicam.htm
The Chicago Police Department's Citizen ICAM web site offers yet another way of defining public space. It presents public space in terms of the crimes that occur in it. This site offers maps for the entire city that show the locations and types of crimes committed. You will have to type in this address yourself. They aren't too friendly about allowing links to their site.
Scorecard
This site is maintained by
Environmental Defense
. It gives information about pollution where you live, who is doing it and how much there is. The site provides you with maps and information about all of the different kinds of pollutants being relased into the air, water and dumps. It adds yet another layer to how public space can be understood.
The Outer Ear Festival of Sound is a comprehensive sonic arts festival, presenting an unprecidented three-week program of audio art, experimental music, sound installations, radio art, sound poetry, intermedia performance, workshops, and artists' roundtable discussions. The festival is organized and presented by Experimental Sound Studio.
Two installations will be presented at Temporary Services:
M.W. Burns: "Apertures," a multichannel sound installation incorporated into the building's central stairwell.
Jocelyn Robert and Daniel Jolliffe: "La Salle des Noeuds: v2.4:" a chattering environment with musical accompaniment provided by the Global Positioning System.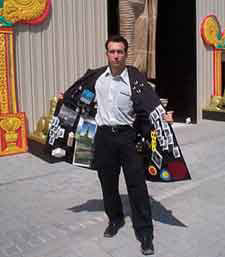 Jesse Bercowetz's Overcoat project
Overcoat 2000 -
VIPER
Festival, Basel, Switzerland, October 25 - 29, 2000.
Temporary Services is contributing to Jesse Bercowetz's
Overcoat
project - an exhibition in an overcoat. Jesse is a participant in this year's
VIPER festival
and will be presenting his project to passersby in Basel.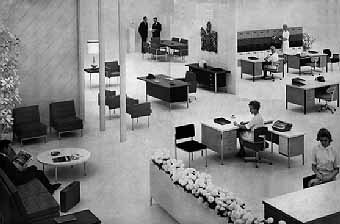 WORK -
At GALLERY 312, September 15 - October 21, 2000. Opening Reception: Friday, Sept. 15th, 5 - 8pm.
An exhibition of artists responding to the necessity of employment. Organized by Advisory Committee members Carol Jackson and Jake Jacobs.


Flow chart from booklet - explains the multiple steps involved in our project
Drawing of donation box and menu for the reception
Images from the reception
Gallery 312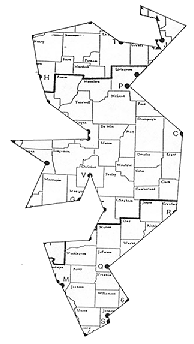 Correctional Course 2000 - 1st Annual Youth Bike Rally -
Sunday Sept. 10 at 3pm. Location: alley lot on the 1800 north block between Albany St. (3100W) and Kedzie Ave.(3200W) just north of the train tracks dividing Logan Square and Humboldt Park.
On an unexpectedly warm weekend in March, my sons and I headed out of Chicago by car on a charted course through the state of Illinois. The course was determined by locating state correctional facilities (prisons) from a list provided by the Illinois Department of Corrections (D.O.C. map) and marking routes on a road map that linked the facilities into a continuous pattern (the boundaries of a state as defined by its prisons). Our plan was to drive by every prison in the state. Maybe I took this trip because I needed time to think about how all of this came to get out of hand. I needed to be locked in a car driving with set destinations. I had collaborated with juveniles in detention who constructed works of art that critically questioned the continual expansion of the incarceral system. I know that many of the youth that I have worked with eventually got sent to these places that I passed. Maybe the idea for the course began to form while driving one of the youth's mom to see him on a couple of occassions.
"Correctional Course 2000- 1st Annual Youth Bike Rally" is the realization of a proposal to reenact the course made relevant to local youth in Chicago through recognition of the abundance of bikes in the neighborhood. The rally participants will follow a course demarcated by signs which denote names of state prisons. The rally comes on the heels of a federal sweep of our neighborhood following a 4 month undercover investigation "Operation Bumblebee" and an intergang feud which resulted in the recent brutal shooting of a young adult in our alley.
This is a FREE event - There is no entry fee. You must bring your own bike. There will be 3 races for different age groups: 8-10,11-13,14-17. Prizes: Cold cash, trophies and other awards. Organized by Michael Piazza

Map
On the right is Josh Garber's "Episodic." On the left, attached to the pole, is a clipboard.

Public Sculpture Opinion Poll - Fall 2000.
We initiated a project to assess local reactions to the undemocratic placement of this sculpture by the city's Department of Cultural Affairs. We wanted to insert a amount of democracy into the space that this sculpture now occupies. This seemed necessary given that no community input was solicited in the process of its selection and installment.
We placed clipboards on three of the corners at the intersection of Grand and Western Avenues. The sculpture is located on the South West side of the intersection on a traffic island. The clipboards contained images of the sculpture (three different views) and sheets of paper with the question: "What is your opinion of this sculpture and why do you think it was placed here?"
We received an overwhelming amount of responses to the question. They are compiled along with some images on this site.
Temporary Services will publish a booklet with all of the responses and essays. We will then distribute the booklets from a free newspaper dispenser in front of the sculpture. Copies will also be sent to the Department of Cultural Affairs.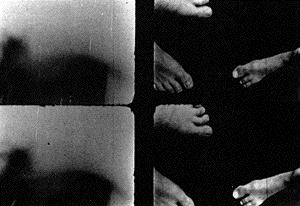 Still from
Drawn and Quartered
by Lynne Sachs
Flicker -
A storefront screening of 16mm, experimental film. Saturday, August 19, Tuesday, August 22, Wednesday, August 23, and Thursday, August 24. Between 8:30p.m. and 10:30p.m.
What happens when experimental film comes out of the theater... its narrative collapsed into the moment a glimpse takes? You round a corner and catch a ghostly flicker. What will you see there? What happens when all the scratching, hand processing, bleaching, cutting, splicing, re-photographing is stripped down and cinema becomes a surprise... unplanned and caught off guard? And what will you remember of that chance encounter with light, celluloid, dark storefront and warm summer night?
Works include:
Brian Frye: Broken Camera Reels 1 & 2, Meeting with Krushchev
Luis Recorder: Available Light
William Z. Richards: Petal
Carolyn Faber: Iota
Brittany Parks: eruptivas
David Gatten: Hardwood Process
Lynne Sachs: Drawn and Quartered
Eve Heller: Astor Place
Screenings organized by Amy Beste. "Flicker" is co-presented by CUFF (Chicago Underground Film Festival), Vedanta Gallery and Temporary Services. Special thanks to Ray Harmon for all of his work.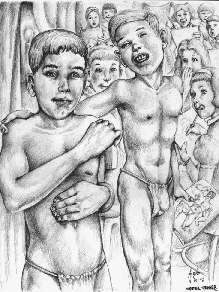 "Model fever"
Angelo, Drawings
-
July 7 to August 19, 2000. Opening service July 7, 5 - 10 pm. Hours: 12 - 5 Saturdays. Marc Fischer hosts a discussion of the exhibition on Saturday, July 8 at 1 pm.
Angelo is a 56 year old artist currently incarcerated in the California prison system. A lifelong draftsman of extraordinary ability, this will be the first concentrated exhibition of Angelo's work. On Saturday, July 8 at 1 pm, Temporary Services will host an open discussion of Angelo's work and the many issues it raises. Marc Fischer will be available to discuss, among other topics, his relationship with Angelo, the nature of art-making in prison, moral issues raised by the Angelo's drawings, and the multitude of problems attached to the exhibition of work by artists and authors not working within the gallery system.
Like other projects initiated by Temporary Services, 1-800 utilizes a common instrument of information distribution: the telephone. The current dialogue around information technologies champions the internet as the newest form of democratic exchange across multiple communities. One potential problem associated with advanced technologies is the issue of access. The omnipresence of the telephone makes it a truly available form of communication. For 1-800, we are capitalizing on that aspect of the telephone. We want to focus on the gesture of offering something for free. From countless locations all across the city, and the country, the work presented through 1-800 can be accessed for free.
Installment 1: February11 - February 25. The Trance and the Arcade (Chuck Bettis), Emile Lebrun and Bob Peters.
Installment 2: February 26 - March 10. Andrew Shirk, Heather Romney and Peter Redgrave (aka the Simultaniacs), and Matt Demmon.
Installment 3: March 11 - March 25. Three excerpts from an interview with Jon Sørvin of N55.
Installment 4: March 26 - April 7. "Screeching melodies" by R. Levine, R Kelly: "When a Woman's Fed Up" and Vincent Darmody, Kathy Fern and Whitney Houston: "It's Not Right, But it's Okay".
Installment 5: April 8 - April 30. Plunderphonics, Terre Thaemlitz and Lillian Yvonne.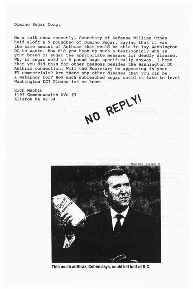 Rich Mackin. Click for large version
Drawn Out -
April 8 - May 13, Opening service April 8, 5-9 pm.
A drawn out project is one that persists with little regard for those who stopped paying attention ages ago. For the people in this show there is always something more to be said, always another idea to share, always another angle to consider, always another example to archive, and always another question to ask. But to draw something out is not only to prolong it, but to induce a person to speak freely. Speaking freely is the critical component that binds all of the work in this show. Included in Drawn Out are over 40 anonymous street flyers by "The Ancient Order Guy", soap products and labels by Dr. Bronner's, collected booklets of letters to corporations by Rich Mackin, blueprint drawings by Krista Peel and Tim Donahue, 200 drawings and doodles left behind by hotel guests from the collection of Chris Ritter, and over 200 public stickers by graffiti artist Shy Girl.
Text from booklet
Ancient Order Fliers generously archived by Ubu Web (go to the Found & Insane section)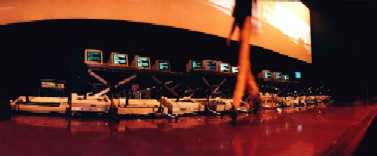 [The User] - Presenting a documentary installation of the Montreal-based collective's Symphony for dot matrix printers. April 8 - May 13, Opening service April 8, 5-9 pm.

Project description:
The Symphony for dot matrix printers is a work which transforms obsolete office technology into an instrument for musical performance. The Symphony focuses the listener's attention on a nearly forgotten technology: the dot-matrix printer. Specifically, it employs the noises the printers make as the sole sound source for a musical composition. Leaving the constituent elements untouched, the process imposes a new order upon them, reorganizing the sounds along a musical structure. Dot matrix printers are thus turned into musical 'instruments', while a computer network system, typical of a contemporary office, is employed as the 'orchestra' used to play them. The orchestra is 'conducted' by a network server which reads from a composed 'score'. Each of the printers plays from a different 'part' comprised of rhythms and pitches made up of letters of the alphabet, punctuation marks and other characters. [The User] uses ASCII textfiles to compose, orchestrate, and synchronize sonorous and densely textured, rhythmically-driven music. During the half hour performance, the sounds are amplified and broadcast over a sound system. The audience is also presented with live images of the sound sources: the motions of the mechanisms, rollers and gears are captured using miniature video cameras installed inside the printers and projected onto large screens.
Listen to excerpts from Symphony for dot matrix printers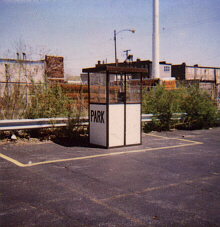 PARK -
A public art project by Deborah Stratman. Starting April 8th - Opening service April 8, 5-9 pm.
Deborah Stratman constructed her own mobile, parking lot attendant's booth. It travelled to various abandonned parking lots around Chicago. The booth remained out for several months. It disappeared shortly after an article was printed in a local newspaper.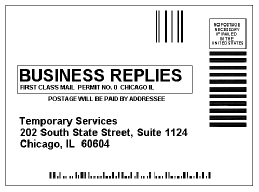 Business Replies -
"Urban Space and Place" - organized by The Butcher Shop Gallery, April 22nd.

Artists: Nance Klehm, Richard Schuler, Johanna Phelps, Ken Lacerda, Alexander Mills, Temporary Services, Rodger Cooley, Melinda Fries & Deborah Stratman
Organizations: Heifer Project International, Green Maps, Evangelical Lutheran Church, Center for Neighborhood Technology (Sustainable Calumet project)

Dates: April 22-May 5. Date and time of the opening: April 22, 2000. 7pm-11pm.
Phone number: 312-666-4566
Gallery hours: Sat 1-5, Sun 1-5, Or by appointment . The Butcher Shop is located at 1319 W. Lake
St. / Chicago, IL 60607 .

Cairn marks locations of LAND

N55- LAND,
March 3rd, 5-9 pm at our dowtown office. The show continues through April 1st. Hours: Th. - 1-8, Fri.- 1-6, and Sat. 1-5.
N55 has designed their own house, hydroponic system, hygeine unit, and other items that they use on a daily basis - N55 web site.
This exhibition will present their new project LAND . LAND began collaboratively between N55, Brett Bloom, Kirsten Dufour and Finn Thybo. Property was purchased in Norway ( soon in Denmark and the United States). The property was set free turning land into LAND. LAND is open to the use of anyone. People can visit LAND and stay there and do what they want with LAND. By starting LAND, ownership of private property can be turned against itself to make a truly open and public place.
This exhibition also presents previous projects that serve as the groundwork for LAND.
The Soil factory
, an audio version of
Art and Reality
and many
manuals
are included. Three excerpts from an interview with Jon Sørvin of N55 are available March 11 - 25 on our toll-free phone line.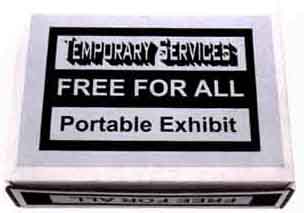 Free For All Portable Exhibit -
March 2-29, Flaxman Library
A complete set of works given away at Free For All will be presentedin the glass display cases at Flaxman Library. Flaxman Library is located on the 6th floor of the School of the Art Institute of Chicago's Champlain building on 37 S. Wabash. This exhibit will include copies of every work given away during Free For All - a total of roughly 100 objects. A free booklet collecting the primary Temporary Services texts from this project will be provided at the library. Immediately following this exhibit, all of the works displayed will be donated to the Joan Flasch Artist Book Collection in Flaxman where they can be viewed during collection hours. Please note that while anyone can access this exhibit, you will have to register with security when you first enter the building. For information about library hours call 312-899-5097.
Services -February 11, 6 - 10pm. Grand opening at our new space!!!

Presenting: an evening of services. Art working is often done in a strange isolation from other kinds of work. In American culture, art is seen as unessential and as something you do in your spare time. It is never accorded the same amount of respect as the work of a doctor or factory worker. We are committed to breaking down these perceptions. Art needs to have a more important role in American culture. This can go way beyond the buying and selling of art goods. We are presenting an evening of non-art services as correlates to art practice. Art can give visual weight to social organizing and phenomena not usually associated with art or art making. Everything is a part of visual culture and has a visual component. Food, drink and booklets provided by T.S. Hair cutting, juicing, typing and conversation also provided.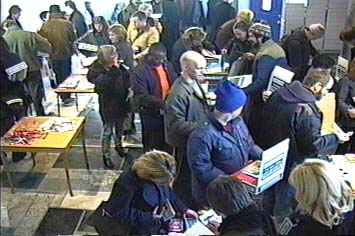 Free For All -
Saturday, February 5th, 1 - 5pm. Storefront at the SW corner of Washtenaw and Augusta.
Over 10,000 objects were given away!
Over 50 artists, individuals and organizations have been asked to contribute work to be distributed for free at this one-day-only event. Artists' work will be integrated with a wide range of material submerging the work in a broader context than it normally enjoys. Religious tracts, booklets, flyers, stickers, matchbooks, posters, audio tapes, and postcards are among the items given away. It is a continuing goal of Temporary Services to seek new ways of presenting work and increasing the audience for it. For this reason, we have chosen to present this project at a more open and public location.
Contributors include: Tony Alamo, Matti Allison, Anonymous, María José Barandiarán & Michael Bulka, Baur Au Lac Zürich, Bible Helps, Shawn Calvert, Charm School Industries, Coalition for Positive Sexuality, Credit Suisse, Wilfrid Désir, Jim Duignan, Anthony Elms & Joel Score, Ending the Begin Tract League, Evangelical Tract Distributors, Fellowship Tract League, F.T.L., Nicolas Floc'h, Grace & Truth, Emily Jacir, Jews For Jesus, Kevin Kaempf, Kim and Mike, Nance Klehm, Kate Kranack, Liberation Rock, Josh MacPhee, Ryan McGinness, Adam Mikos, Mr. Nash, Ralph Nielsen, Leah Oates, Old Paths Tract Society Inc., Krista Peel, Michael Piazza, Pilgrim Tract Society, Inc., Ben Rubin, Bob Shaw, David Shrigley, Shy Girl, Owen Smith, Dana Sperry, Jocelyn Superstar 2000, Temporary Services, Threadculture, Several Unknown Individuals, Vladlen Voronin, Oli Watt and more!
A preview of Free For All was presented in Bloomington, Indiana as a part of an exhibition titled "6/6". The exhibition ran from January 25 - February 4th, 2000. It was located at the School of Fine Arts Gallery at Indiana University.
Free For All by Marc Fischer
All For Free by Brett Bloom
Images from the event
FFA Re-exhibition Strategies
FFA Phone Directory
Press release